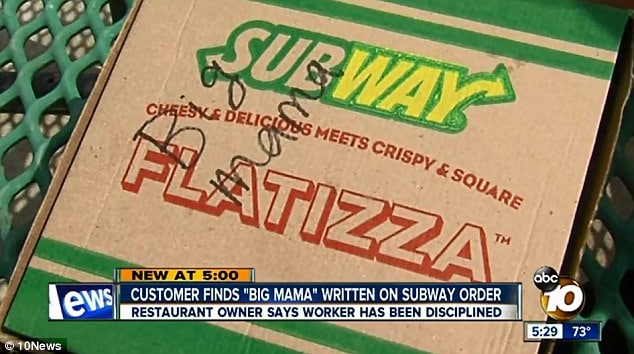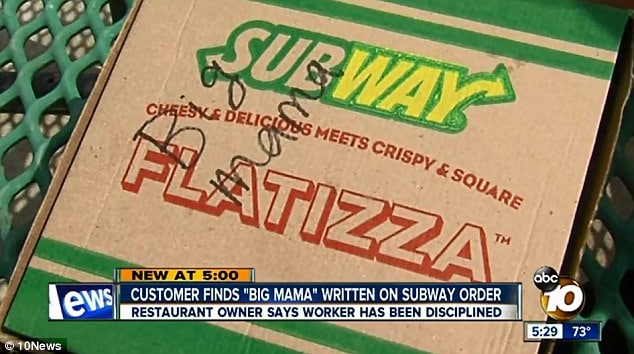 Californian woman, Allison Brown is considering sueing a Subway outlet after one of its employees fat shamed her after writing 'big mama' on her order.
The incident took place when Allison Brown stopped by a local Subway eatery on Hacienda Drive in Vista two weeks ago to pick up lunch for herself and her husband.
The woman ordered a 6-inch tuna sub sandwich and two flat-bread Flatizzas, paid for the food and went on her way.
It was not until Allison Brown arrived home that she discovered the message, 'Big Mama,' written in a black marker across the lid of one of the Flatizza containers.
Told the woman via 10News: 'I just broke down crying. I couldn't eat it. I kept thinking 'Big Mama doesn't need to eat. It started really messing with me. I started thinking, 'Maybe I need surgery. Do I really look that bad? What's wrong with me?'
Having always been sensitive about her weight, Brown said she has been regularly dining at Subway after being inspired by the franchise's spokesman, Jared Fogle, who reportedly shed 225lbs by eating off the fast-food eatery's menu.
When Allison Brown reached out to the owner of the Vista Subway to complain about their worker's behavior, the owner apologized and said that his young staffer just didn't know any better.
Brown has retained an attorney, Dan Gilleon, who sent a letter to Subway's corporate office asking the fast food giant – which has nearly 41,0000 locations in 105 counties – to hire a third party to conduct anti-discrimination sensitivity training for its staff.
Brown has told what matters to her more than any payout is that the employees be required to undertake the above anti discrimination training.
Reiterated Allison Brown: 'We all come in different shapes and sizes, and then you see something like this … 'Big Mama'? How is that helping anybody?'
'This isn't about money,' she said Friday. 'This breaks my heart. Here Subway promotes itself as a place for people who need help eating better, then this happens. What if the wrong person got a box like mine? What if they saw that and tried to commit suicide?'
In a statement, Subway restaurant owner Sanjiv Mehta said that he does not tolerate discrimination of any kind, and that the worker at the center of the controversy has been fired.
Despite Mehta's assertions, the once-loyal customer has vowed never to set foot in a Subway restaurant again.
'You couldn't pay me to eat there again,' she recently told.