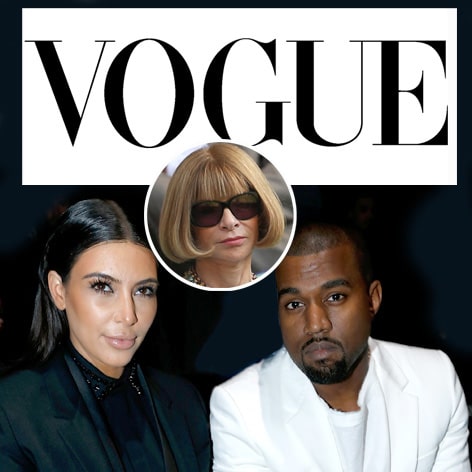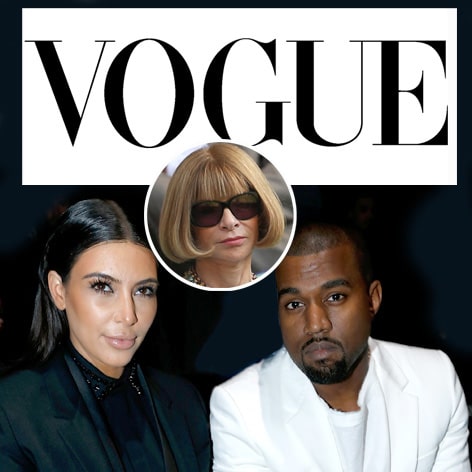 The Kim Kardashian Vogue cover desperately explained by a fallen empress, Anna Wintour.
Anna Wintour has this afternoon come out to address her naysayers after it was revealed earlier this afternoon that Kim Kardashian and her fiancé Kanye West  booked the April cover of American Vogue.
Kim Kardashian Vogue cover wet dream comes true. Anna Wintour: Why? 
Writes the editrix in the April 2014 Editor's Letter for Vogue's Shape Issue:
'You may have read that Kanye begged me to put his fiancée on Vogue's cover,' writes the 64-year-old Editor In Chief. 'He did nothing of the sort. The gossip might make better reading, but the simple fact of the matter is that it isn't true.'
'There's barely a strand of the modern media that the Kardashian Wests haven't been able to master, and for good reason.
'Kanye is an amazing performer and cultural provocateur, while Kim, through her strength of character, has created a place for herself in the glare of the world's spotlight, and it takes real guts to do that.'
Anna Wintour, who has been editing the magazine since 1988 says a long held tradition of Vogue is 'being able to feature those who define the culture at any given moment, who stir things up, whose presence in the world shapes the way it looks and influences the way we see it. 
'I think we can all agree on the fact that that role is currently being played by Kim and Kanye to a T. (Or perhaps that should be to a K?),' she writes with tongue n' cheek.
above image found here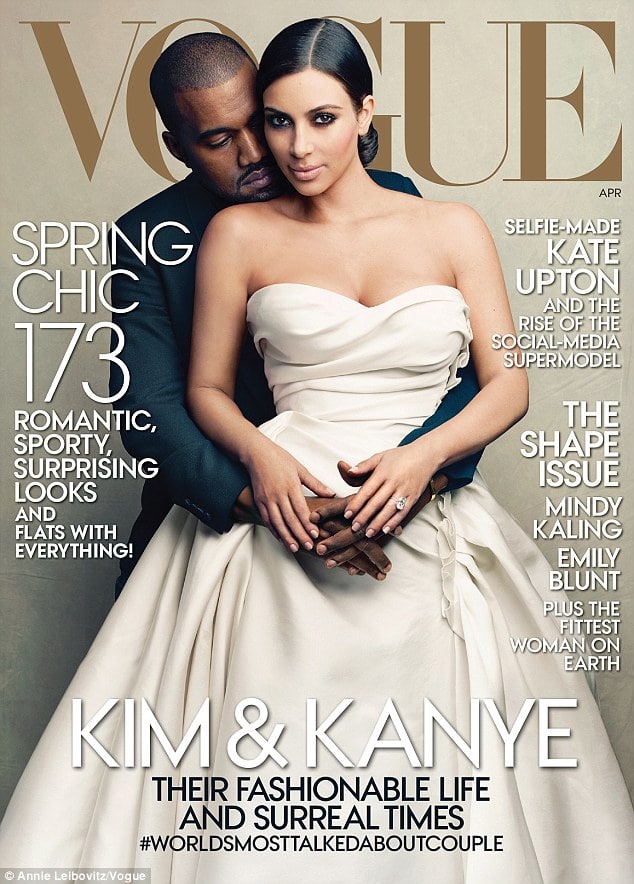 While Anna Wintour insists that her choice for what could arguably be said to be America's most loudest and conspicuous and omnipresent media whores (to the detriment of American media) was an organic one, the readers who always know better than their editors had this to say on the web:
Just hand in your resignation now. What a disgrace.
Sad, sad day for Vogue and fashion. Anna Wintour has lost it.
Good bye Vogue it was nice to know you.
I'm actually genuinely upset she won this cover. Sigh, celebrity is all that anyone cares about now, forget actual talent or skill. Behold the face of America.
There is something sad when a woman is considered to have 'brains' by first having a sex tape to catapult her career.
bet they paid vogue tons of money.
Shame on Vogue for giving in to Kanye's tantrums. 
notice they called them the most talked about couple..not the most loved couple or even well liked…
Vogue has become In Touch….I will never buy another issue. 
Does anyone still read Vogue?