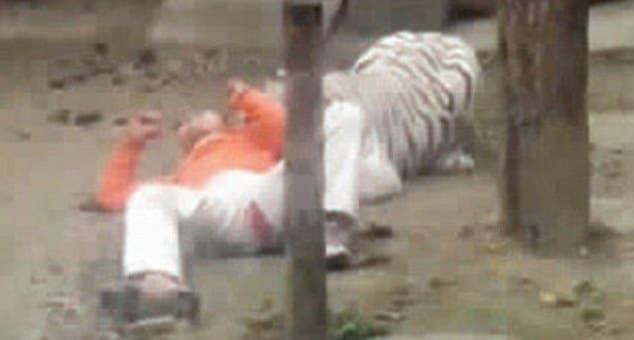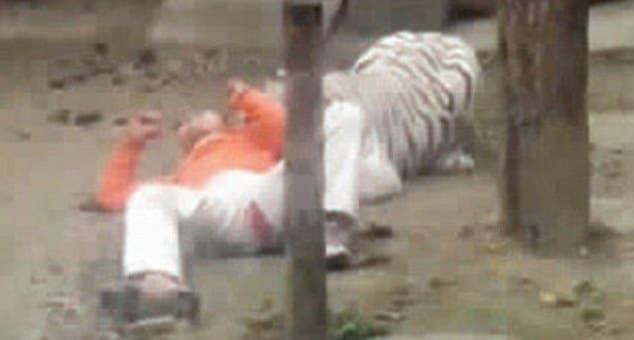 Yang Jinhai, 27 a depressed factory worker was mauled after offering himself to a local Chinese zoo's white tigers as bait to eat. The man in the end came to escape certain death after zoo keepers were able to restrain the worker but not before one of the white tigers the man had offered himself to dragged him around the enclosure. Miraculously he survived with little physical injury.
The incident came to pass after Yang Jinhai posted several online messages about how optimistic he was about starting a new life after being offered a post as a security guard in Chengdu in southwest China's Sichuan province.
Nevertheless the man would find the job boring and instead took on a job at a local printing factory where he would soon resign, telling that there was more to life.
After going to the local zoo Yang Jinhai wrote how depressing it was to see the 'noble and magnificent tigers' living in such humble surroundings, where they were caged and unable to follow their natural instincts to hunt and kill.
It is thought that the man on some level was using the white tiger's enclosure to relate to his forlorn existence.
Soon after, the former factory worker announced that he would sacrifice himself in order to provide the Bengal tigers with support.
Commentators on the web have gone on to wonder if that statement was more about himself seeking support and something greater and nobler of his life. Which is to suggest workers like Yang Jinhai often feel they have little meaning in their life, especially in lieu of the dreary and harsh circumstances they are often forced to toil in at horendously low wages.
Told a witness, Feng Lin who watched in horror as Yang Jinhai suddenly took to climbing inside the lethal enclosure: 'He climbed up the outside of the cage and jumped inside expecting, I assume, that the tigers would pounce on him. Instead the two tigers, a male and a female, seemed more nervous than anything else and the female actually ran off.'
'He then tried to antagonise the tigers by pulling faces at them. Eventually he was attacked by the male where he was cut after being scratched and bitten before he could be rescued by zoo keepers who fired a tranquilizer dart at the male tiger.'
It was soon there after that the man was pulled out of the cage by frantic zoo keepers.
When asked why he entered the enclosure, Jinhai told that he 'simply wanted to feed the tigers'. The backpack he had brought into the enclosure was found to be filled with rice.
'If it had been a Siberian tiger, the consequences would have been unimaginable,' a zoo staff member told the West China City Daily newspaper, noting that the tigers had just finished a meal of 16 pounds of meat.
Since the incident, Yang's family have told that their son has been depressed for a long time and that he had been taken to a home where he would be given psychiatric counseling.
images found here