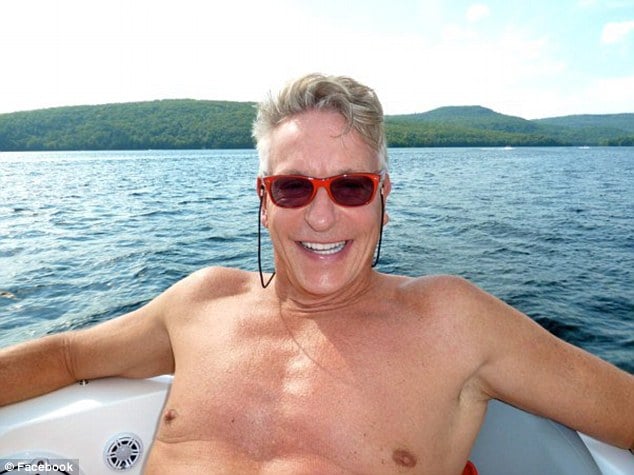 In an interesting feature via abc comes the too hard to believe story of Florida Playboy Thomas Kramer who reckons he's gone though his $90 million fortune and is only down to $300K. Never mind he keeps spending money like no tomorrow and likes to take back to back lavish holidays.
According to the former real estate investor, shit went belly up and that is how he lost a lot of his money (never mind that real estate in Florida is generally going through the roof) which means he just can't get round to paying off his debtors and the taxman. But somehow there's cash to burn for those back to back lavish holidays and expensive trinkets.
Explains the UK's dailymail: An aging Miami-based playboy, known for his yachts, cars, wine and women, claims he has 'burned' through his $90 million fortune and now has just $300,000 to his name, which he is spending at a rate of $50,000 a month.
Thomas Kramer, a high-flying German former real estate investor with a penchant for lavish parties and near-constant vacations, has opened up about how he went from minted to skint in a deposition related to a $108 million, still unpaid, judgement from 2007.
Still unpaid? Well naturally, that's because according to the 56 year old Thomas Kramer he has no job and no income and thus technically he's poor. Well not quite. He does have $300K somewhere which he likes to blow on rainy days at a pace of $50K a month. Which is a great job if you can get it. Except as Thomas Kramer would like to remind us, he has no job. Well except that is as a Florida playboy.
Now that he's relatively broke compared to his flashier years, Thomas Kramer has been forced to make some very tough choices in the hope of reigning in his lifestyle. Selling boats, art works as well as gasp, instructing his butler, maid and maintenance man to come only a few days a week.
But this is the part I like the best: In the deposition, Kramer, who admits to owning two South Beach homes valued at up to $55 million, claims that after selling his Range Rover to a friend who still lets him drive it, his only other transportation is a bicycle his brother bought for him at Costco for '149 bucks.'
Nevermind $149 is more than Thomas likes to spend on the occasional diner party and fete where his glam hanger ons like to drop by.
From there we find out about Thomas' magnificent back to back lavish holidays across the world which had him attending various wedding, including Elton John's White Tie and Tiara Summer Ball in England.
Despite his business woes and loss of fortune, Thomas Kramer has his father's inheritance to hang on tight to. After his father's death in 2012, Thomas inherited a mere $3.3 million.
Already having spent $2 million last year and down to a frugal $300K, Thomas simply picks up the phone and calls 'Norman' a banker we are told who simply wires Thomas Kramer more play money. Lots of it.
Asked in the deposition where all the loot from the proceeds of the sales of his boats, cars and paintings went Thomas responds as follows:
'Into the burning account,' 
 'Burning like whoosh it goes, and the money is gone.'
Thomas Kramer never denies he made money in his profile as a high-profile developer of Florida real estate. Two recent profiles of him (one in the Miami Herald, the other in Miami New Times) describe him as one of the developers most responsible for turning South Beach from a run-down neighborhood into the A-list destination it has become. But as you can imagine 'stuff' got mangled here and there and now he's naturally broke.
Apart from earning some money from renting out the backyard of one of his Star Island homes for photo shoots and charity events, Thomas insists he has very little income to speak of.
He tells he has $3.8 million in unpaid bills, including $1.8 million in real estate taxes.
'What am I supposed to do with (the remaining money)?' He asks. 'Throw [it] up in the air, [so] who catches it is paid, and I shoot myself? No thank you.'
No, not at all Thomas. That would be too much to ask 'Norman' to help out with?
Nevertheless Thomas Kramer reckons he will 'declare bankruptcy, probably' when the $300,000 runs out. Probably after next week's lavish dinner party. Or maybe the year after. Or the year after that?
Reminded that bankruptcy doesn't provide an income, Thomas Kramer retorts he'll simply live 'off my friends and family.'
'I'm everywhere invited,' he says.
Don't you wish you were a 'broke' Florida playboy too? I know I do…
Told an unverified commentator on the web that had me wondering:
I believe the background is that his ex-wife's step father was a wealthy German tycoon who was trying to hide his money from taxes. So he entrusted it offshore to Kramer. The German government discovered the evasion and the German tycoon confessed all and paid the taxes. Then he asked his ex-stepson-in-law for the money back. Kramer didn't return the money (I'm not sure of the story, I think it was first that the money wasn't owed back at all, then that it was tied up in South Beach real estate and finally that it was lost). Naturally the $108MM judgement followed. So this is someone who amply versed in hiding money offshore, from both sides of the table.