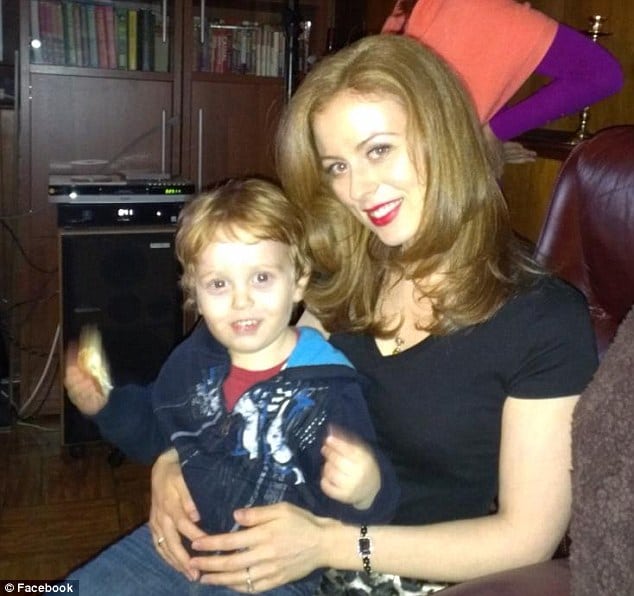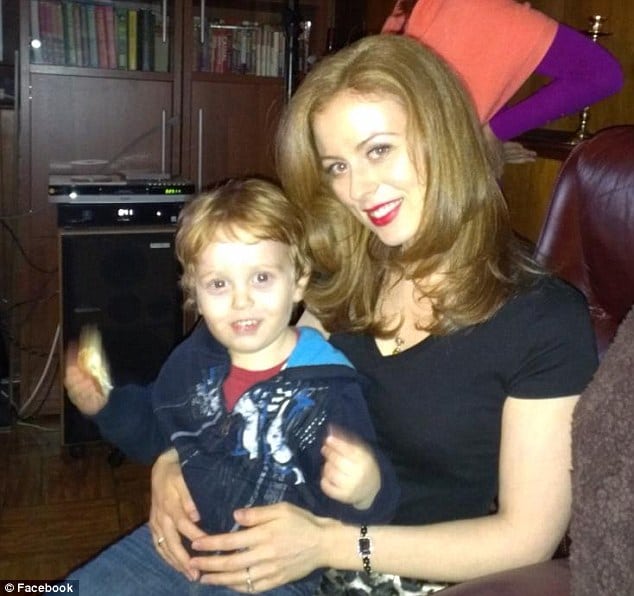 Dmitriy Kanarikov, dad jumps to his death after pushing 3 year old son off Manhattan high rise.
Svetlana Bukharina, the embittered mother who went on to lose her three year old son, Kirill at the hands of her deranged husband has spoken about the ordeal that has now left her motherless.
At the time, the mother and her estranged husband were undergoing bitter divorce proceedings. Of contention would be who would get to keep the house and visitation rights to the three year old in light of the court's concern of the eligibility of the father, Dmitry Kanarikov who had exhibited irrational behavior.
Via a statement through her lawyer, Alla Roytberg, the classically trained violinist went on to tell the following: 'When we first separated, Dmitry told me that he would leave me alone only if I left him everything we had together. Money and assets were most important to him.'

'Otherwise he said, he would take the child away and I will "shoot myself from grief.'
A law enforcement source has since elaborated on the estranged husband's threats, telling that the man had told his wife: 'If I can't have him, then you can't.'
But up until last Wednesday, relations with  Kanarikov had been going better after coming to an agreement earlier in the month to allow him unsupervised visits with the child.
Svetlana Bukharina went on to tell the boy had been skyping with his father every night and two previous unsupervised visits on December 8 and 15 went without a hitch.
Yet it seems all went awry, after the Kanarikov snapped after a hearing on December 18, when a Brooklyn judge gave custody to Svetlana Bukharina and ordered him to pay child support. At the time, Kanarikov had told he was going to make a motion for custody.
Told the mother: 'This was his sick way to take Kirill away from me.'
Bukharina went on to tell that she now believes her estranged husband had started planning the murder-suicide after last week's hearing.
On Sunday afternoon, the Ukrainian immigrant took his son to a 52-story building with the intent of taking his own and his son's life.
Kirill plunged 46 stories after being pushed from a ledge on the roof of a building on Manhattan's West Side after, police say, his father pushed or threw him.
He landed on a sixth floor landing before crashing down onto a John Jay College building next door to the highrise.
He was alive when paramedics arrived on scene, but died minutes later at St. Luke's Roosevelt Hospital.
Investigators believe Kirill was thrown or pushed from the tower because he was found farther from the roof deck than his father's body – who likely plunged straight down after jumping.
Kanarikov was supposed to hand his son off to Ms Bukharina at a police precinct yesterday but never showed up. He left no note explaining his actions.
New York City Police Commissioner Ray Kelly yesterday went on to tell the following:
'The precise nature of the threat was that unless she signed over the house to him that he was going to take the child,' 
Kelly went on to tell the couple had a history of 'domestic turmoil,'
'The husband was granted what I call supervised visiting rights, where the father only had the child in some sort of institutionalized setting,' Kelly continued. 'Yesterday was the first day that was not the case.'
Svetlana Bukharina is currently grieving at her family's home in Fair Lawn, New Jersey, where her son was attending pre-school.