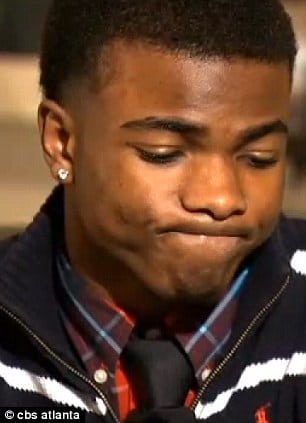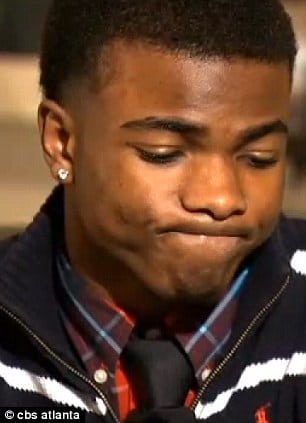 Sam McNair, a 17 year old high school student from Duluth, Georgia has been put on suspension after hugging a teacher.
In choosing to suspend McNair for one year, Gwinnett Public School District officials tell the move was sexual harassment, but the student has offered he was only trying to comfort the female teacher and that he comes from a family of 'huggers.'
Told McNair to CBS Atlanta: 'Something so innocent can be perceived as something totally opposite.' 
Since being suspended the student's mother, April McNair has told that it has cost her son an athletic college scholarship. She has argued that her son should have been issued a disciplinary warning instead.
Despite insisting that the hug was innocent, the teacher told that she had warned Sam McNair that hugging was inappropriate and that the hug was more than just a hug, that the student also kissed her. It has also been told that despite the previous warning, the teacher had at that time declined to report him.
The unwanted embrace went on to be caught on camera, shows McNair hugging the teacher from behind and resting his head on her shoulder.
In the discipline report, the teacher says McNair's cheeks and lips touched her neck.
McNair denies kissing the teacher, and says he didn't know it was against the school's rules on sexual harassment to hug a teacher. He says he's hugged other teachers before – including the teacher in question.
According to officials, Sam McNair can appeal the suspension to the school board.
School officials have since issued a statement saying 'hearing officers consider witness testimony, a review of the known facts, and a student's past disciplinary hearing…when determining consequences.' 
While Sam McNair does have a disciplinary record, none of his prior actions involved sexual assault.
Then there were these comments on the web that made me wonder as well:
If the teacher had done the same she would have been suspended as well with a possible loss of her teaching credentials and/or jail time. Sad that this has happened to him but if she had warned him prior then its a sad and harsh lesson learned.
For those of you who are okay with his behavior and compare his actions to those of your little children, you must remember that this is an adult, not a child, it is not appropriate for adults to hug other adults that are authority figures over them in school. I highly doubt this was some innocent hug anyway…he was most likely trying his luck to seduce her.
I believe the punishment was waaaay too harsh, but I wouldn't want some person coming up and hugging me – personal space is, well… personal space. It would make me feel uncomfortable. A written warning should have been given. Also, it does look like he put his face against her neck. He has previous "disciplinary record" – indicates to me like he does this for ulterior motives.
why aren't they interviewing the teacher?? put her damn face on the news.. why put the kids face on tv alone?? such a biased feminist system dominating public education