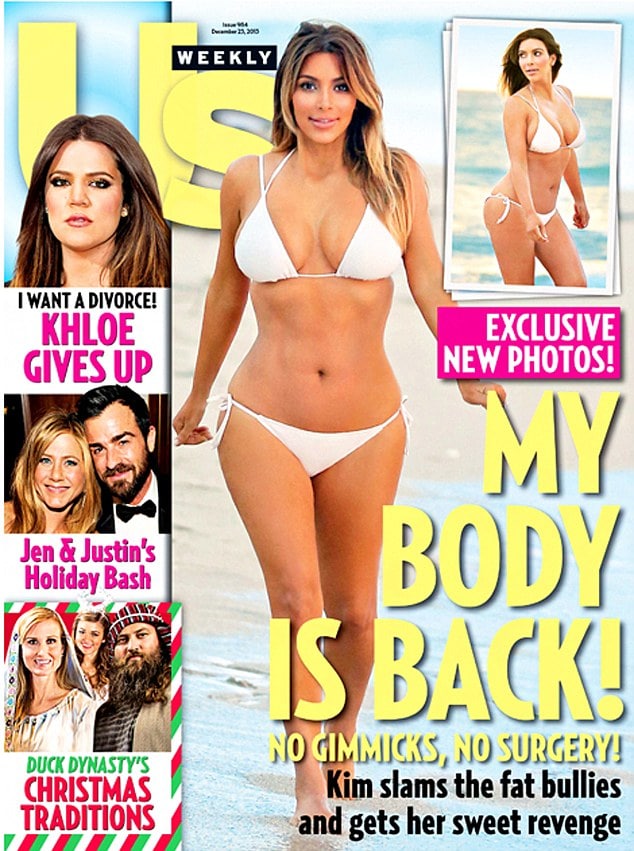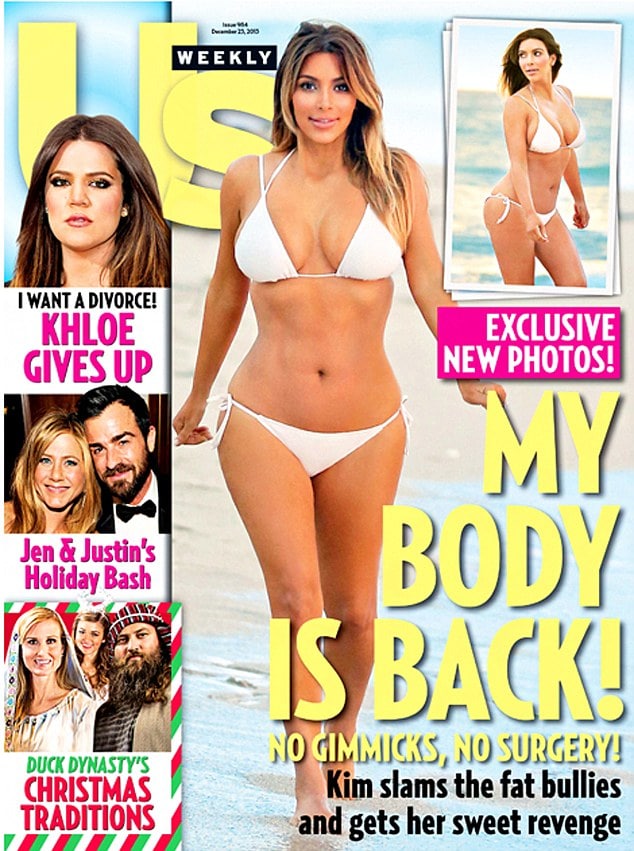 Kim Kardashian flabby armpits are gross and putting on six pounds a week.
Kim Kardashian is not fat insists Kendall Jenner.
Kendall Jenner insists you stop calling Kim Kardashian fat thanks.
In a nail biting cliff hanger, Us Weekly has come out with a new piece extolling for virtuous eyes how our collective idol, Kim Kardashian managed to lose weight since giving birth.
The journal featuring the ever present media whore on it's cover donning a bikini (hurrah at last, Kim is anointed in her rightful place) goes on to reveal in a pr stunt how Kim Kardashian came to lose up to 56 pounds since giving birth to baby North West.
US Weekly goes on to tell us how the reality/tabloid starlet went on to endure hours of physical exertion as she set about a rigorous exercise regiment which included doing up to 100 squats a day.
Tells a friend of the star to HollywoodLife.com: 'She wakes up and does more than 100 squats every single morning.
'Even now, when she can wear the things she did before her pregnancy, she still wants to tone her body.'
The underlying message? A woman can't love or accept herself until she gets back to being the uber creature that the tabloids imagine her and desire her to be.
Helping Kim realize her aspirations of good health and a slim physique, a healthy aspiration indeed, assuming one is doing it for healthy reasons a source goes on to tell that Kim has also gone on to incorporate a new dieting plan.
Told the source: 'She's got a trainer on tour with she and Kanye and a chef to keep her meals carb free.
'With the exception of some cheat days, because she is realistic now, she sticks with it!'
The new images of our collective hero are said to have been taken on November 30th.
In her pr write up, the media whore goes on to tell how she was following the Atkins diet to shed her baby weight, which involves entirely cutting out carbohydrates.
That said, our collective hero hints that despite shedding 56 pounds since giving birth, she's still not entirely satisfied with her appearance, and is now, hold your breath kids, aiming to get down to a size zero – smaller than her pre-pregnancy size.
A source told Now magazine earlier this month: 'She's hit her goal weight but wants to drop to a size 0.
'Apparently she's eating just 1,000 calories a day and drinking herbal teas in a bid to shed the weight.'
'She also wakes up for daily 5am workouts and often does another hour in the afternoon.'
Kids, as commendable as it is for Kim to shed excess weight gained during her pregnancy, tell me if she's not now going the other extreme and for what cause exactly?