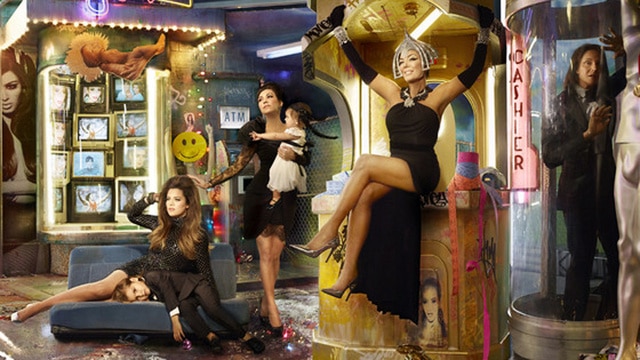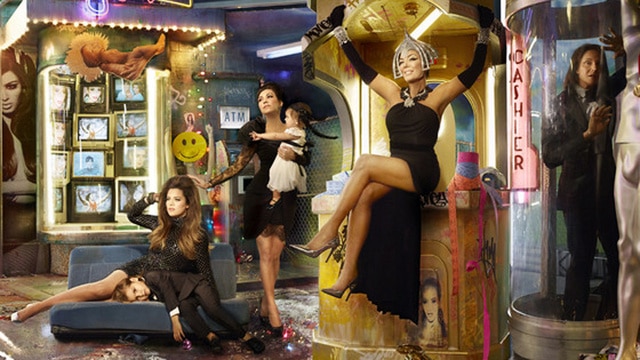 The White Kardashian Christmas card because white lies never hurt anyone.
The world is relieved now that the Kardashians finally came out with their 3-D Christmas Card.
Kardashian Christmas card for 2013 is a high glossy wet dream of how rich them bixches are…
As is customary this time of the year, the Kardashian family takes it upon themselves to remind America how grateful we all ought to be for the Kardashians existing and splashing us with mini second updates on their 'fortunate' existence.
As usual, this year's Kardashian Christmas card is a delicious masterpiece, resplendid of a pre Rafaeli masterpiece in any major national gallery around the world with the acumen of stylized expressions borrowed from an 'edgy' fashion shoot. Cause edgy is of course what best describes the Kardashians…
The card itself is Hollywood of yesteryear nostalgia cut with a dash of bizarre carnival madhouse. Cause we only like madness in America.
The picture itself features Kim (godzilla herself), Khloe (gadzilla in the running), Kourtney (godzilla light), Kourtney's kids, Kendall Jenner(America's certified new modeling princess), Kylie (wannabe model too), pimp momma Kris (momma godzilla) and Bruce (too tired for words but somehow grimly keeping it on) all dressed in black and effusing poses amongst mannequins and tabloids (yes kids, that's an inside joke only godzilla and momma godzilla can really appreciate). And of course one huge dollar sign to remind us all that the Kardashianh's refuse to play unless you take out your wallet.
But here's where the tear drops begin to funnel. Our extended family doesn't make the cut.
Explains sheknows: Rather, it is the lack of Kanye West, baby North, Lamar Odom, Scott Disick and Rob Kardashian that is grabbing most of the attention. All of them are MIA, but before everyone starts jumping to conclusions, there are legitimate reasons for these absences.The card started out as a girls-only deal, which is kind of weird for a FAMILY photo, but whatever. Then Bruce decided he wanted to do it anyway, but Rob was totally cool with not participating because he has body issues right now. Kanye is touring and was unavailable, Scott just wasn't feeling it, and Lamar…..well, Lamar spent the better part of the last 5 months smoking crack, so you can draw your own conclusions on why he wasn't included in the photo.
Naturally crackheads is not the right look for this pony shoe, nor are siblings who dare not watch their calories and as for Kanye, that bixch is simply too beyond the hoi poi but then again that bixch's life is Christmas personified every day.
Isn't it time you donned your favorite make believe outfit and posed for your own gracious Christmas card too…?
Go here to see a full version of the card up close and let your mouth drop.