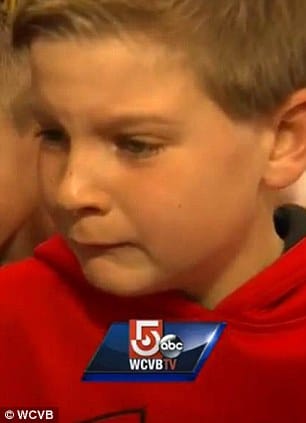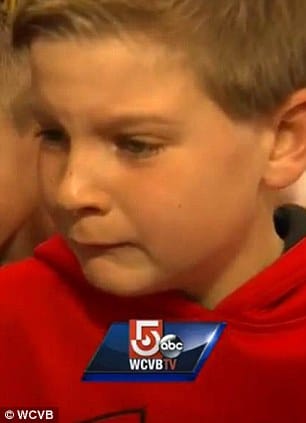 Danny Keefe, a first grader who attends Williams Intermediate School in Bridgewater, Massachusetts has found himself experiencing the unimaginable. The football team has come to his defense after the boy went on to be the recipient of unrelenting torment from school bullies.
Born with a speech impediment and often the recipient of bullying as a result of Danny's penchant for wearing a suit and tie to school, the football team decided to stand firm with the 6 year old boy.
Rising to the challenges of warding off the boy's detractors, the fifth grade football team, where Danny is a waterboy decided to dress like Danny and hold a Danny Appreciation Day.
Danny who was born with a speech impediment and who is also mercilessly teased because of his love for dressing in a suit and tie (as well as fedora) has come to be greatly misunderstood tell school administrators.
The call for action purportedly came after 11 year old quarterback Tommy Cooney caught wind of the teasing Danny was receiving and decided to come to the special needs boy's side.
It wasn't soon there after that wind of Tommy's call for arms had the football team gathering around Danny Appreciation Day.
On Wednesday, Cooney and 44 other fifth-graders arrived in school and surrounded the dashing Danny, all dressed in jackets and ties.
'This is the best day ever,' went on to beam an excited Danny Keefe as the older kids chanted his name in the library.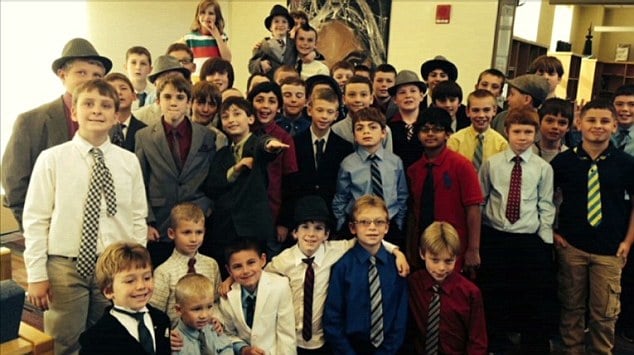 Danny's father, Mark Keefe, who is the assistant coach of the Badgers, told the fifth-graders that they should be proud of themselves.
Cooney turned emotional while talking about his team's beloved waterboy, tearfully explaining to anchors at Fox 25 that Danny is part of their 'band of brothers,' and they were not going to let anyone bully him.
'We thought we would all come to school like Danny and sponsor Danny to show Danny that we love him…that we love him very much,' the 11-year-old told WCVB, wiping his eyes.
Before staging the Danny Appreciation Day, the young quarterback reached out to Danny's mother, Jennifer Keefe, asking for her permission to dress up like her son.
Jennifer Keefe went on to later tell that she found her son weeping in bed as he was about to turn in.
'I said, "What's the matter?" and he said he felt very loved,' she recounted. 'So that's my wish for him every night…'
Boston News, Weather, Sports | FOX 25 | MyFoxBoston