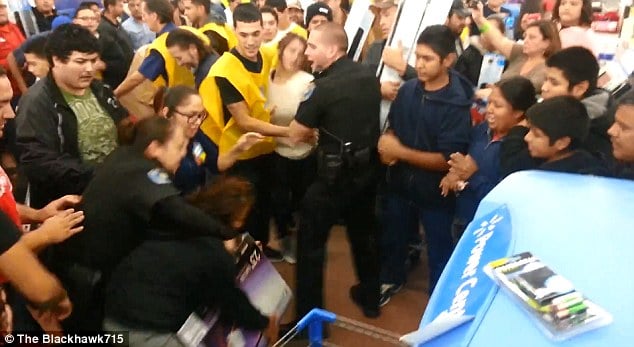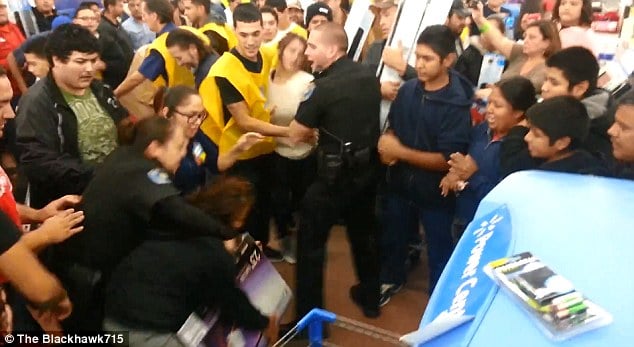 Wal-Mart employees go on strike to protest shitty life while you shop your heart out.
Kids as usual it's time to take a deep breath as you bravely make your way onto your annual Black Friday shopping bonanza past time.
Unsurprisingly Black Friday (which officially was brought forward by one day yesterday by large discount stores like Walmart) was a bona fide fxck fest as the usual pandemonium that Americans come to expect came to once again be.
In once incident, a Virginia man was stabbed in a row over a parking space, a Las Vegas shopper shot in the leg by a man stealing his newly-bought television, whilst police in one Chicago store went on to open fire on an alleged shoplifter as he fled from a Chicago store.
Not to be outdone were the shoppers themselves who went on to load horrifying videos of customers beating each other up, brawling as they desperately made their way to the Black Friday deals to be had.
Perhaps one of the most stellar displays of Black Friday madness came courtesy of one shopper who went on to fire a warning shot at another in a bid to make them drop a big screen device.
The thief allegedly took the television to a nearby vehicle where another suspect was waiting and, as he loaded it inside, the victim tried to get the gadget back. The suspect then shot him in the leg.
The victim went on to be taken to hospital with non life threatening injuries.
To date no description has been released for the vehicle or suspects and an investigation is ongoing.
Joining Black Friday madness also included one man stabbing another over a parking spot at a Virginia Walmart store last night.
Reports tell that 61 year old Ronnie Sharp went on to be charged with malicious wounding and brandishing a firearm after slicing 35 year old Christopher Jackson in the arm, affecting a deep wound exposing the man's bone.
And in another shooting incident, police officers shot 51-year-old Robert Russell as they tried to stop three alleged shoplifters at a Kohl's store in Romeoville, Illinois late last night.
After Russell ran from the store, he jumped into the passenger seat of a car. When an officer tried to arrest him, he shut the door on his arm, causing the officer to be dragged alongside the vehicle.
Another officer shot at the car several times, hitting the driver, 52-year-old Charles Hinch, in the arm, the Chicago Sun Times reported.
The driver and the officer were both taken for hospital treatment of non-life-threatening shoulder injuries. Russell and Hinch were both arrested, along with another suspect, 28-year-old Gerald Chamberlain, who was still inside the store.
In California, a fight broke out in a Walmart parking lot in San Bernardino County, after shoppers jostled in line to take advantage of Black Friday door buster deals.
Tensions were high at the retail giant's Rialto location as shoppers continued in cutting in line, told Sgt. Nicholas Borchard.
4NBC went on to tell at least three people were involved in the brawl and two have been taken into custody.
And in a New Jersey Wal-Mart, cause the Black Friday madness knows no distinction between states, a shopper was arrested after arguing over a cut-price television set, reports News 4 New York.
Richard Ramos, 23, of Passaic, reportedly became 'belligerent' while arguing with another shopper over a television set and then allegedly attacked a police officer when the manager called for help. Naturally.
More officers went on to arrive on the scene and used pepper spray to subdue the 'belligerent' Ramos.
For his efforts, Ramos was charged with disorderly conduct, aggravated assault on a police officer and resisting arrest, according to Garfield police. He's scheduled to appear in court Friday, police said.
And in another Walmart incident, yes Walmart, women were filmed snatching boxes of cut-price Rachael Ray cookware sets in Knoxville, Tennessee. In the video, the shoppers can be seen trying to grab the sets – which are $89 down from $199.99 – from other people's hands.
Walmart spokesperson Brooke Buchanan went on to deny such scenes accurately depict the Black Friday shopping experience at the retailer.
'We've got great feedback from customers and associates across the country,' she told The Huffington Post. 'A few tweets aren't representative of what's actually happening at 4,600 stores.'
The steady creep of the Thanksgiving sales has some critics saying that the annual bargain frenzy has gone too far and more should be done to preserve the day as a traditional family occasion.
One employee at Menlo Park Mall in New Jersey launched a petition to not open on Thanksgiving.
'The fact that we may not even be granted the same relaxation or be able to spend a National Holiday that gives thanks for our families with our family is absolutely and indubitably absurd!' the worker wrote.
In Arizona, one customer who shopped at Kmart in Wiles-Barre Township said, 'I feel sorry for the workers. 'Thanksgiving should be time for family.'
'I have mixed feelings about it, because I think you ought to be able to enjoy your holiday and not worry about shopping,' added Janet David of Plano, Texas.
Nevertheless most outlet managers and indeed the outlets themselves have told that they would not have maintained these hours unless it was supported by customer demand.
Simon Malls, who owns Menlo Park Mall, said that their extended holiday hours 'are designed to meet customers needs and reflect changing consumer behavior.'
K-Mart opened at 6am on Thursday and will remain open for 41 hours straight in 'the triple doorbuster' sale to appease bargain hunters.
Best Buy and Walmart opened their doors at 6 pm on Thursday, while Macy's, Target, JCPenney, Kohl's and Sears welcomed shoppers to its stores at 8 pm.
Kmart defended its decision to open on Thanksgiving at 6am saying that it has been doing that for the past 22 years.
'We understand many associates want to spend time with their families during the holiday,' the company said.
'With this in mind Kmart stores do their very best to staff with seasonal associates and those who are needed to work holidays. All associates who work on Thanksgiving are compensated with holiday pay.'
However, some national chains have decided to stay closed on the national holiday, keen to present a more traditional front.
Nordstrom wrote on its Facebook page, 'We won't be decking our halls' until Black Friday because 'we like the idea of celebrating one holiday at a time.'
Trader Joe's, Burlington Coat Factory, TJ Maxx, BJ's Wholesale Club, Costco, Home Depot, Dillards, and Marshall's also chose to stay closed this 'Gray Thursday.'
No word yet if the Black Friday madness will extend itself over the weekend into Black Monday as America gets on with the task of shopping and acquiring…
via UK's dailymail