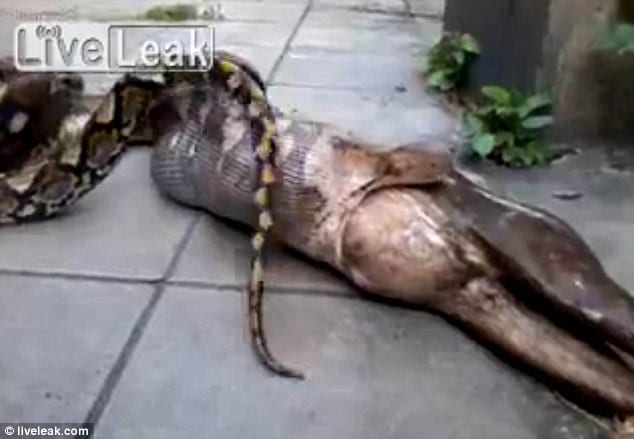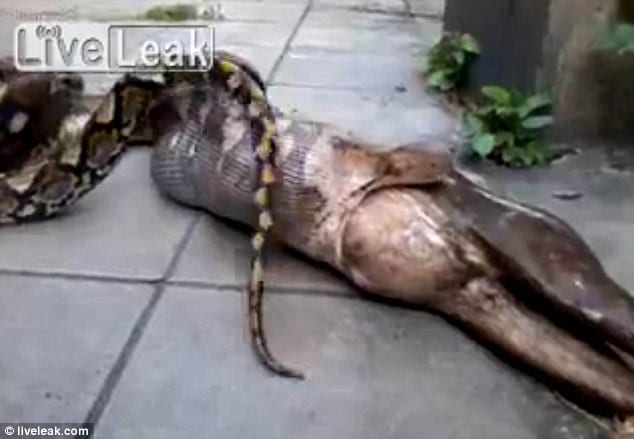 A harrowing scene has gone on to be seen countless times after a python snake regurgitating a fully grown dog has gone viral the world over.
The scene captured by a bystander on a cellphone shows a python snake, 12 feet in length swallowing a fully grown dog and then being forced to regurgitate its prey on account of the sheer mass that the snake has enveloped.
The video shot on the streets of Bangkok, Thailand shows the snake dislocating its jaw to properly make room for its new bounty as it goes on to swallow en masse its new found treat.
The video goes on to show first the dog's hind legs emerging, then the rest of its body. The scene all takes place within the span of three minutes to the horrified bemusement of onlookers.
At the end of the video, a snake handler can be seen capturing the python snake.
Commentators now believe that the snake, biting off more than it could chew and unable to freely mood (on account of its sudden load factor) was forced to regurgitate the fully grown dog.
Since been downloaded on youtube and LiveLeak,the video has been viewed hundreds of thousands of times.
Experts go on to tell the incident of a snake bringing back up undigested food is rarely seen but quite common in the natural world.
Reflected Australian Reptile Park reptiles and spiders supervisor, Julie Mendezona : "It seems like a typical case where the animal's eaten something, because it's hungry, but with snakes once they have eaten a large item they can't really move very well," 
'All that commotion is spooking the snake and he can't get away quick enough. He's probably pretty scared at the moment, so what he's trying to do is get away.' 
Never mind the dog which was not able to move fast enough out of the python snake's way either…