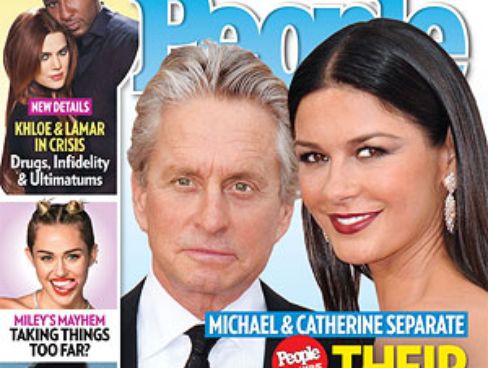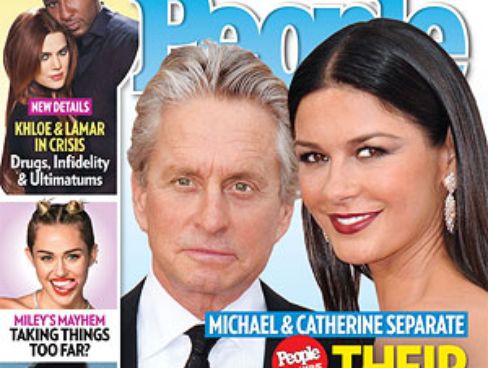 Seems shit just didn't pan out in the end for Michael Douglas and his in and out crazy Catherine Zeta Jones who according to sources have called it quits on their 13 year marriage. Or perhaps in polite pr talk they've decided to separate for the time being.
Told the source: "They're taking a break. The stress has taken a toll on their marriage. They want the best for their kids, no matter what happens."
Some of the reasons cited as to why the couple have chosen to get out of each other's way includes the toll of dealing with Michael Douglas'near fatal battle with throat cancer, Catherine Zeta-Jones twice checking herself into a psychiatric facility to deal with her Bipolar II disorder, Douglas' son Cameron getting 5 years in prison for possession of heroin and dealing meth, Douglas sort of implying that going down on Zeta-Jones GAVE him cancer before clarifying about HPV, which was probably the last thing Zeta Jones needed as she dealt with her up and down state of mind.
The couple who married in 2013 have yet to have filed for divorce or legal separation, in the interim, Michael Douglas, 68 is said to be holidaying solo in Sardinia while Zeta Jones, 43 remains in NYC with the couple's two children.
People mag who went on to release the scoop notes that the pair haven't been publicly seen together since April 22 when they attended the 40th Annual Chaplin Award Gala at Avery Fisher Hall in NYC.
Increasing rumors of a possible acrimonious split is the claim via Star Magazine that Zeta Jones was at one point set to begin a '$300m divorce battle' against her husband.
Interestingly a representative for the couple has gone on to deny this morning that the pair have separated.