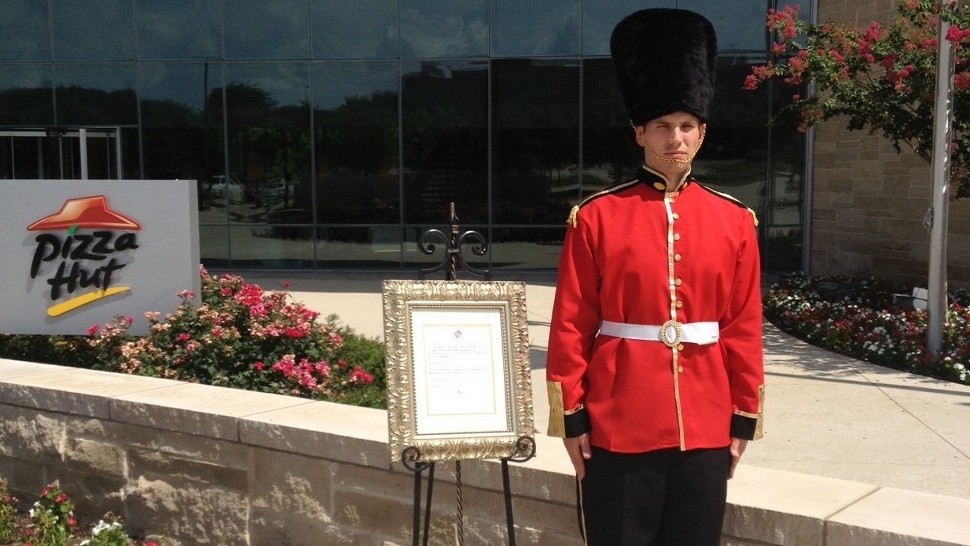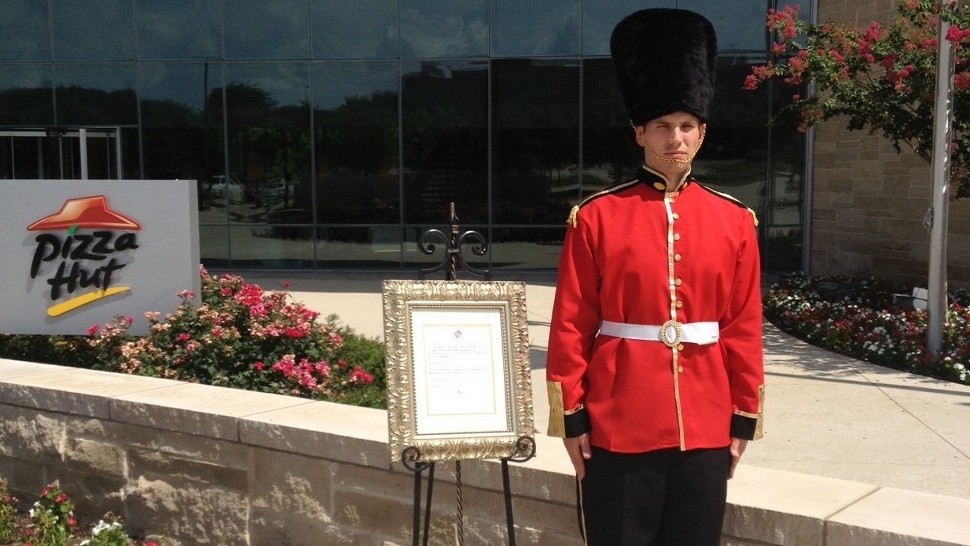 Wanting to get in with the royal baby flavor, Pizza Hut have come up with the ingenious plan of having an intern stand outside of their Plano, Texas headquarters as a royal guard serving up royal offers. Yet as brilliant as the idea may have been it seems the idea has left one  individual rather shaken. Which individual you wonder? The intern dressed as a black and red polar bear dealing with this week's 95′ fahreinheit weather…
Deciding he was the one who looked most British (whatever that means?) Brady Smallwood was unimanously elected to fill the post as part of his intern curriculum.
Of course what's interesting about Brady is the fact that he never went to clown school but rather happens to be a Brigham Young University graduate who is currently finishing up an MBA at the University of Chicago's Booth School of Business.
Nevertheless, Brady being the good natured lad that he is decided to make his employer happy and don the rather cumbersome uniform in anticipation of the royal baby birth.
Which naturally had our local hero standing by a "cheasel" proclaiming a "royal offer" to "loyal fans" courtesy of "The High Order of Pizza Hut of the United States of America."
Contemplated Brady after asked how his ass was faring in the 95 degree weather: "It's actually harder to be a royal guard in Texas. They have it easy over there [in the UK]."
The royal offer was finally revealed yesterday: A free side or dessert with the purchase of any medium or large pizza.
Let's hope that Brady gets an honorary salute from Kate Middleton next time she ponies up for a slice of the good stuff..
Above image via Pizza Hut.