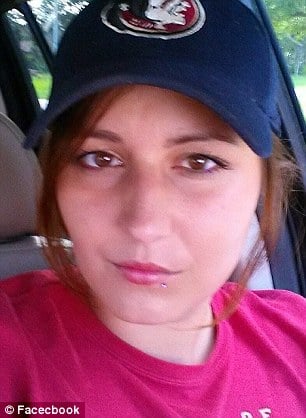 Cheryl Treadway, 25, an Avon Park, Florida mother of three has escaped to live another day after using her wits to escape her meth addled boyfriend who was holding her hostage Monday afternoon after scribbling 'get 911' on an online Pizza Hut app order.
At the time, the woman and her boyfriend, Ethan Nickerson, 26 had been arguing all day when the man began sharpening a knife in front of her.
Refusing to let her out of his sight or to use a phone, Treadway managed to convince her boyfriend to give her a cellphone so she could put in an order at their local Pizza Hut using the outlet's online app.
Along with her order for pepperoni pizza the woman wrote in the comments section: 'Please help. Get 911 to me. 911 hostage help!'
Fortunately for the Florida mother, staff recognized her as a regular and immediately contacted the Highlands County Sheriff's office.
Said Candy Hamilton, the fast food outlet's manager via WFLA: 'We've never seen that before,'
'I've been here 28 years and never, never seen nothing like that come through.'
As deputies headed to the house, Treadway fled with a baby in her arms, notifying authorities that her boyfriend was armed with a knife.
Nickerson initially refused to leave the home, telling authorities through the door that he did not want to go to jail, but after 20 minutes, cops were able to convince him to come out.
In turn the man would be taken into custody whilst the two other remaining children were removed from the home. None of the children were harmed.
Responding to the crises, authorities told that the boyfriend may have been high on meth when he held his family hostage.
Offered Lieutenant Chris Ludden: 'If I'm standing there with a knife in my hand, sharpening it, and looking at you in a menacing way and make a statement that, "I'm going to kill you," and I've already done some violence to you, ya know how are you going to take that message?' 
Since being arrested, Ethan Nickerson has been charged with aggravated assault with a weapon without intent to kill, battery, false imprisonment and obstructing justice by depriving communication to law enforcement.
Records show the man has been arrested on multiple occasions since 2007 on charges including battery, battery on law enforcement, damage to property, public intoxication, vehicle theft, DUI and forgery.