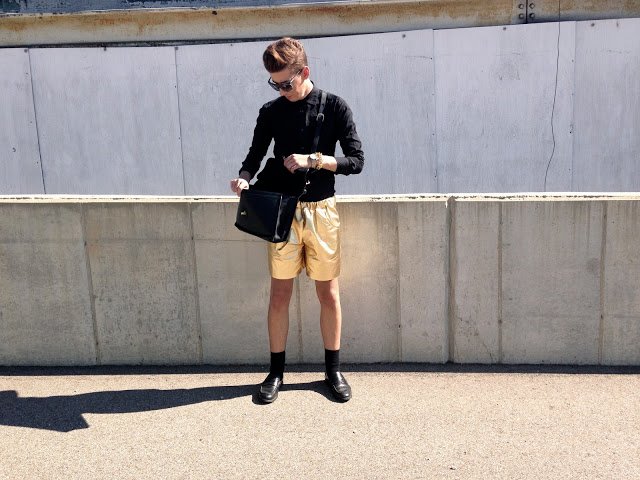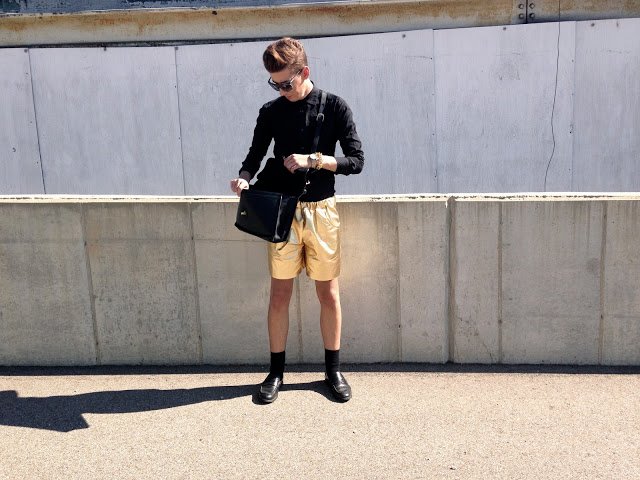 Daniel Parker from Grand Rapids, Michigan it seems has managed to get the last laugh after all after a local bar was forced to recently apologize to him after barring him entry on account of his fashion sense. What kind of fashion sense you wonder? Let's have Daniel explain to us….
Explained Daniel Parker on his facebook page next to the above accompanying picture:
Daniel Parker
:
 Because most people reading this are local to the area I'm asking you to take a stand with me. Discrimination is not something to be taken lightly. This past weekend was a bit eye opening for me.Last friday Geof and I attempted to meet friends at Mojo's Dueling Piano Bar and Restaurant while I was wearing this outfit. We were stopped at the door while three staff members talked openly about me without acknowledging me. When I asked what the problem was, I was told it was my outfit. Specifically the shorts I was wearing. I was told I was wearing a "costume" and quote "shit" they also informed me that this was "a bar with standards and a dress code". When I informed them of the importance of my outfit (examples the Lanvin and Frankie Morello S/S2013 shows)I was told "Well it's not something I would wear so"**I hope you are all eye rolling as hard as I am right now.
Kids let's stop here for a moment. If a budding fashion designer which Daniel Parker carefully notes he is makes an effort to explain to your ass that this shit is Lanvin and Frankie Morello worthy you better pucker up and scream "My hignhness please walk this way, the VIP booth is down this way…"
Continues Daniel:
I'm so hurt that Grand Rapids can claim to be up and coming in the world, yet still be so culturally behind. It should be noted that this is not the first bar my wardrobe has been an issue at. Grand Rapids may no longer be on the Top 10 dying cities list… But I feel its people might be changing that. What's going to happen when Art Prize rolls around this year? Slated to be the biggest yet, with visitors from all over the country. Will the local bars refuse to serve anyone not wearing stock mall clothing?
Kids can we get some facts straight. Are we really to believe that Grand Rapids is the up and coming cultural capital of Michigan. Nevertheless Daniel is correct, them bixches ought to know better and understand when he explains this shit is fashion worthy they better pucker up and obey.
Continues Daniel:
Please let Mojo's know that discrimination is not ok, join me in not supporting them.
If you need me i'll be drinking at the extremely welcoming bar we also went to that night, SpeakEZ. I'll be easy to spot… I'll be the least classy guy in the bar…. and wearing Lamé.
Peace, love, and wear what you want.. I sure as hell do.
Kids, Daniel is correct, wear as you please but it might sometimes help to exercise a modicum of restraint and understand that just cause your ass is fashion forward does not mean the rest of the world is. Yes the world will judge us Daniel ( I like to wear my bedroom slippers when I head down the street for a pint) but we ought to be able to dress and behave as we please as long as we also bear in mind other sensibilities.
For the bar's efforts they eventually relented and gave in and apologized to Daniel after all of Daniel's facebook friends went and told off Mojo's.
Explained Mojo's owner Tom Wojciakowski: 'Mojo's is open to anyone. We have everybody from 21 to 60, from all walks of life, in on a regular basis. However this turned into a discrimination thing is 100 percent false.'
'Our employees acted as they believed was necessary to enforce our establishment's dress code. However, it is clear that our dress code needs to be modified in order to accommodate for individuals whose fashion selections may be a little more fashion forward than we are accustomed to.'
Needless to say Daniel and Tom have kissed and made up. For those wishing to be fashion forward educated don't resist the opportunity to see what fashion forward shiny things one ought to be looking forward to wearing in the near future.