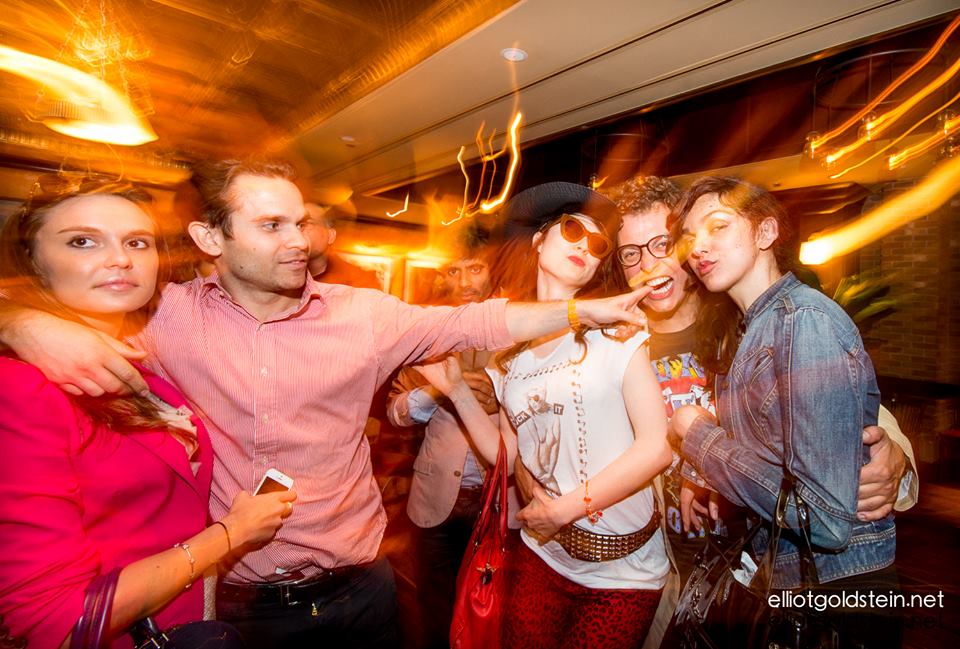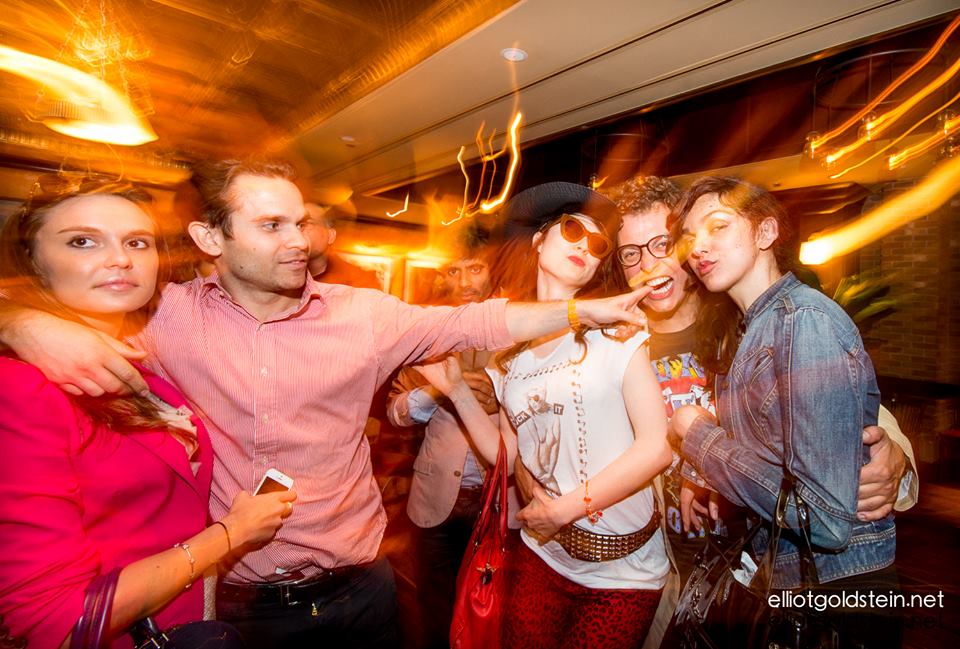 Natalie White is forced to cover up her masturbation act.
This past Wednesday saw the unveiling of "Rock Them' a group collobarative exhibit at new fave downtown gallery Rox Gallery. To be sure the scene was a mish mot of cool hipster kids (is that an oxymoron?) trust funders, a smattering of some Upper Eastsiders and a hodge podge of downtown vibe which saw artists, freaks, friends and the fashionably beatuful congregate to gyrating dance beats. Yes that's right kids, an art show is almost meaningless without your sponsored pink champagne and fun dance beats and Marlboro lights smoking crowd flocked on the sidewalk.
The art itself was pretty damn impressive as well if you bothered to look past the hawt bixches making a scene of themselves.With work from Arman, Bijoux Altamirano, Amanda Charchian, CLR Therapy, Myla Dalbesio,Dee & Ricky, Jordan Doner, Mimosa Echard, Jesse Edwards, Walker Fee, Erik Foss, Charlotte Foyle, Mr. Gif, Jules Kim, Alex Markwith, Andrea Mary Marshall, Ryan Mcginley, Natacha Merritt, Mint & Serf, IliGili Non Nom, Clayton Patterson, John Platt, Jonathan Rosen, Bill Santen, Robert Schwan, Bogdan Stroe, Sam Trioli, Ventiko, Lina Viktor, Andy Warhol, Jay West and Natalie White.
Which is to say there's a lot to reflect on, spoil oneself with and a lot to just stare and stare at and ask what the f how did they do that, I love it.As curated by Laura O Reilly the show seeks to examine life in America by giving preface to the amount of weight we give to material items, from how we use luxury as a weapon and beauty as a tool.
Tells the press release: ROCK" represents any material item that we use to make ourselves stand out, "THEM" being the receivers of our projected self image, those we strive to impress. The exhibition is a reaction to the global manufactured marketing of luxury goods, elitism and our cultural obsession to obtain things and gain status. We put ourselves through an endless grind to afford the bling and arm ourselves with weapons of fashion. We hunt and want to be hunted. The desire for "rocks" is in our cultural DNA. 
"ROCK|THEM" asks the questions: How do we view ourselves in relation to others? Is the drive to succeed a blessing or a curse? Will we do anything in pursuit of status?
Almost ironical given the status sensibility of just turning at these days uber chic Rox Gallery.
Status, a rock we acquire or a feeling we wear?