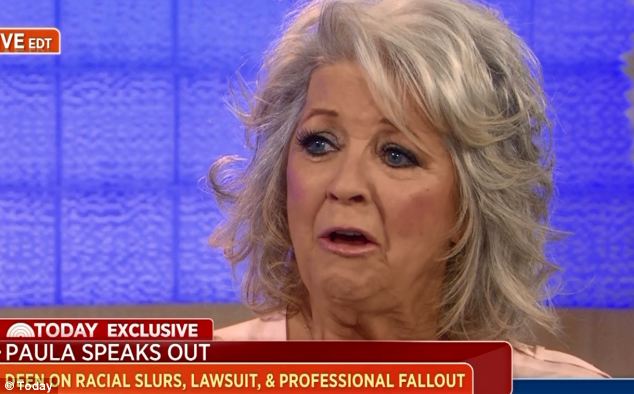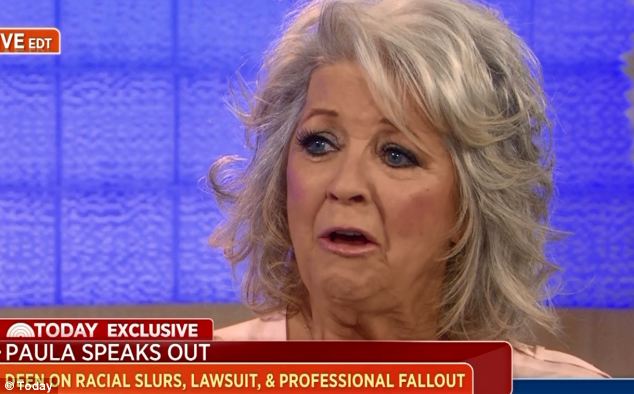 Paula Deen will never use the word nigger again. Suffers more losses.
Paula Deen tells Matt Lauer she does not like niggers at all.
Did Paula Deen turn up drunk on the Today show?
It seems Paula Deen's last ditch attempt to salvage her food empire took another nose dive after her appearance this morning on NBC's 'The Today show.'
With social media and the general media nailing Paula Deen for views which in essence betrays her stance towards racism and perception of race it was only a matter of time before the food matriarch would be dropped again. This despite Deen's hysterical attempts to plead for clemency for perceived misbehavior, behavior which she subconsciously condoned when she went on to tell a shocked Matt Lauer that she is who she is.
Since this morning's disastrous showing Paula Deen it has now been told has now been dropped by Wal-Mart Stores Inc who have gone on to tell that they will not place "any new orders beyond what's already committed."
Also joining the long line of dissenters also includes Caesars Entertainment Corp who went on to tell that it has "mutually decided" with Deen to remove her name from its restaurants in Joliet, Ill.; Tunica, Miss.; Cherokee, N.C.; and Elizabeth, Ind.
The latest blow comes after Paula Deen was dropped by the Food Network last week and Smithfield Foods earlier this week.
And then there were this thoughtful reflections I came across on the web that made me wonder what we mean by racism and how and why a rich old woman from the South managed to send the nation into a tizzy:
Reflected thoughtfully flavorwire: Deen refuses to admit that she's a prejudiced person — at least when "prejudice" is defined as judging someone by his or her actions, rather than racial, sexual, religious or other identity. And this confusion over what constitutes racism isn't new, either; anyone who has grown up in the South in the last three decades, even in the most progressive households, has inherited the fallout of the region's troubled past. It's an uncomfortable fact that the culture in which one was raised will, despite much effort, play a certain role in one's worldview. It's clear that Paula Deen, a child of the segregated South, hasn't had much opportunity to interrogate this aspect of herself. In her eyes, the world has changed and, following suit, so have she and her loved ones, because they are not openly practicing racism.
But what is important to consider is that racism has never been exclusively a Southern problem in America. Hell, it's not even a solely American problem, although it is convenient to associate such prejudice with Paula Deen's dialect (and, to be fair, she doesn't help break down the stereotype of the racist Southerner, either). I've seen plenty of jokes on Twitter this morning about the apparent shock that people expressed after a rich, white Southern lady admitted to using the n-word; the only thing that's truly shocking is that the admission was so cavalier. And while Paula Deen has not necessarily shown much reflection that displays an understanding of the ramifications of her comments, her downfall has at least instigated a conversation about the ingrained and systemic racism in this country, as well as opening up a discussion about the kinds of racism we tend to take for granted.
And then there these comments from the web as well which went far to gauge the general consensus towards the Southern belle:
The more interesting story is the bigoted response to her honest admission and apology by the 'culture police' quick to believe on scant evidence that a Southerner is a racist.
I suspect that there are plenty among us who do not always have politically correct attitudes or opinions and laugh at non-PC jokes.The amount of grief she has received is way, way over the top. She did NOT run a slave plantation, kill a black person, poison black people with her food and from what I've read worked very hard to build a small business into an empire which was based on her skills and hard work. So, I think enough is enough. I suppose she will keep getting hell in the media until some other celeb grabs media attention. Then the media vampires and public will beat up on someone else for awhile. This is definitely a national pastime– beating up on celebs. But boy it sure is fun ranting, cracking jokes and making nasty comments when someone very successful stumps their toe.
So you never use the N word? When you see some Black perp on TV that just gun downed three rival gang members what is the thought you have in your head? Do you think that African American just killed three people or do you think that N word just killed three people. What is the thought you had in your head when you saw the burly Black guy bust into that white ladies house yesterday and beat the tar out of her in front of her frozen child just so he could rob her. Just to show that I am not completely bad I also think WT. I think most of us are not politically correct in our private thoughts no matter what our ethnic background.
The behaviors Ms Deen is being accused of tolerating in her business is the pervasive use of the n-word by an owner/manager (her brother), his alleged sexual behaviors in the workplace, calling African american employees "boy", forbidding black employees from using restaurant front entrance and guest bathrooms while permitting white employees to do so, excluding hiring employees who are black to work visible front line jobs, secretly marking black job applicants paperwork to identify their race. One can say she turned a blind eye out of love and protection of her brother, but she is a business owner and is ultimately responsible. But if alleged statements her brother made can be proven, some of these policies were used and imported from another restaurant Ms Deen started and controlled (and still owns) before she hit it big with tv shows, cookbooks, etc.