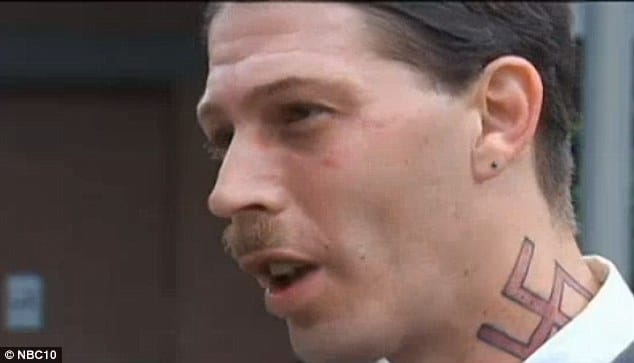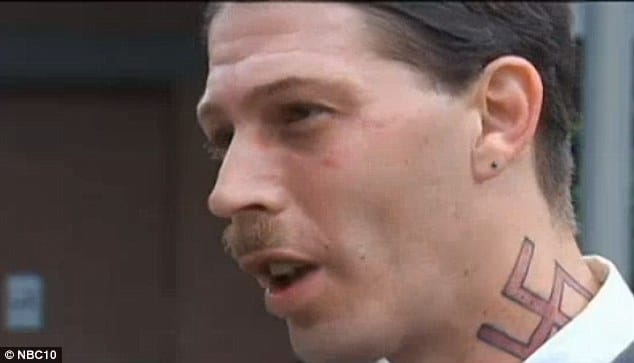 Father who named his son Adolf Hitler turns up to custody hearing wearing nazi uniform.
Self proclaimed white supremest and Nazi, Heath Campbell who is currently fighting visitation rights of children taken away from him on account of what he reckons are his controversial belief systems is expecting a baby with his 22 year old fiance Bethanie Rose Zito.
What though makes this upcoming baby birth interesting is that Heath Campbell, 40 and his fiance plan to call the child Eva Braun (who was the girlfriend of Nazi dictator, Adolf Hitler) if the child ends up being a girl, this on top of a child Campbell already named Adolf Hitler which was eventually taken away by New Jersey state on the grounds of child endangerment.
Asked if the child turns out to be a boy, Heath Campbell went on to tell that he wasn't necessarily sure what name he would use but he was leaning towards Rommel. Erwin Rommel for those who don't recall was a top ranking Nazi official during World War II, who was eventually accused in a plot to overthrow Adolf Hitler before eventually committing suicide.
The name deliberation follows after Heath Campbell this past Sunday got down on one knee in front of a water fountain in Easton, Pennsylvania, dressed in full Nazi regalia to pop the question to his girlfriend. Needless to say Bethanie went on to say yes.
The popping of the question followed an incident earlier this month when the couple showed up in the same outfits and matching swastika tattoos on their necks to a court hearing where Campbell tried to regain custody of one of his children.
Interestingly, Campbell who already is the father of eight kids to four women and lives off government benefits went on to tell that the latest pregnancy was a surprise, but not an unwelcome one, as he believes it is all in God's grand plan for white supremacy.
Reflected Campbell: '(Bethanie) was on the pill, but we don't believe in abortions. That's murder. Maybe God just doesn't want the white race to die.'
The mother-to-be already has one son but he was removed from her custody.
Campbell has four children with his third wife – named Adolf Hitler Campbell, seven, JoyceLynn Aryan Nation Campbell, six, Honz­lynn Jeannie Campbell, five, and 19-month-old Hons Heinrich.
All four children have been removed from their father's custody amid domestic violence allegations. The children's mother, Cathy Bowlby who has since parted ways with Campbell has since reneged her rights to the children.
That said, Campbell isn't taking any chance this time and has constructed a plan to make sure this child stays with him.
'In July, I'm shipping [my fiancée] to a neo-Nazi compound down South,' he went on to tell the NY Daily News. 'There's no way in the world they're going to find out where this child is.'
Speaking about Campbell, Bethanie said: 'He's peaceful. He's calm. He's basically all about family, and that's what I like.'
The couple go on to tell that they met a year ago at a meeting of Campbell's neo-Nazi group.
Family or not, Heath Campbell's ex-wife Cathy Bowlby went on to claim last week that her former husband was a wife-beating tyrant who was obsessed with the devil.
During their three-year marriage, she went on to tell that Campbell tried to name their first-born Lucifer because he believed he was the devil. But Cathy said she talked him out of it and suggested he take their father's name instead.
Bowlby also went on to tell that Campbell "… believed he was the devil reborn to take over the world. He'd say, "I believe in the devil. I worship the devil. I am the devil."'
Nevertheless Campbell petitioned the court last week to be allowed to see his 18-month-old son Hons. Although acknowledging he has given three of his four children with Bowlby Nazi-inspired names he believes he is fit to be a father and has never abused them. Rather he has gone on to opine that the children were really taken away from him because of concerns some might have because of his ideological belief system. A belief system although unpleasant with most, is not unconstitutional to have in the US as long as one does not actively act out to hurt or discriminate against those that one may choose to view against their belief system.
At the time of the hearing, Campbell went on to tell NBC10 the following: 'I'm going to tell the judge, I love my children. I wanna be a father, let me be it. Let me prove to the world that I am a good father.'
That said many went on to wonder how good a father Heath Campbell necessarily makes when choosing to turn up to court in a full Nazi uniform and a belief system that would almost surely expose any children in harms way and constant harassment at the hands of society who may or may not choose to agree with a view of the world that has categorically caused discrimination, displacement and even death.
A follow-up hearing has been scheduled for later this month.