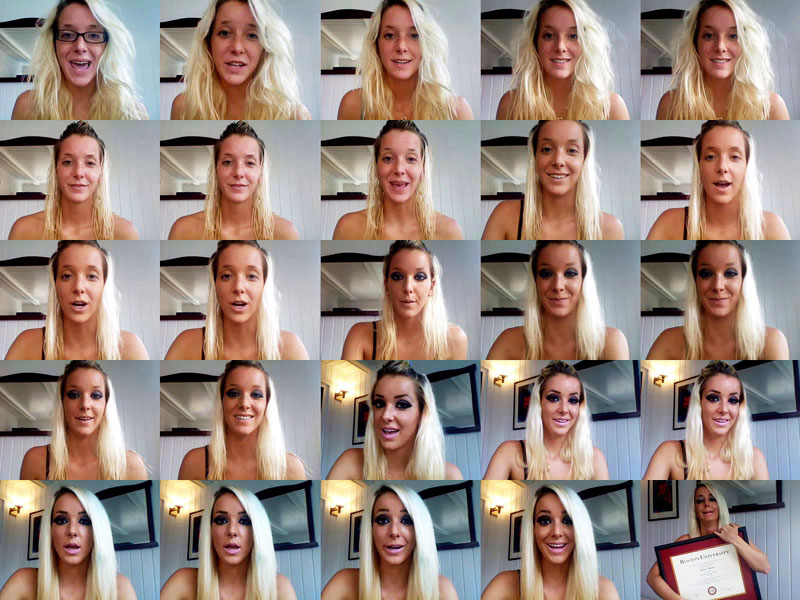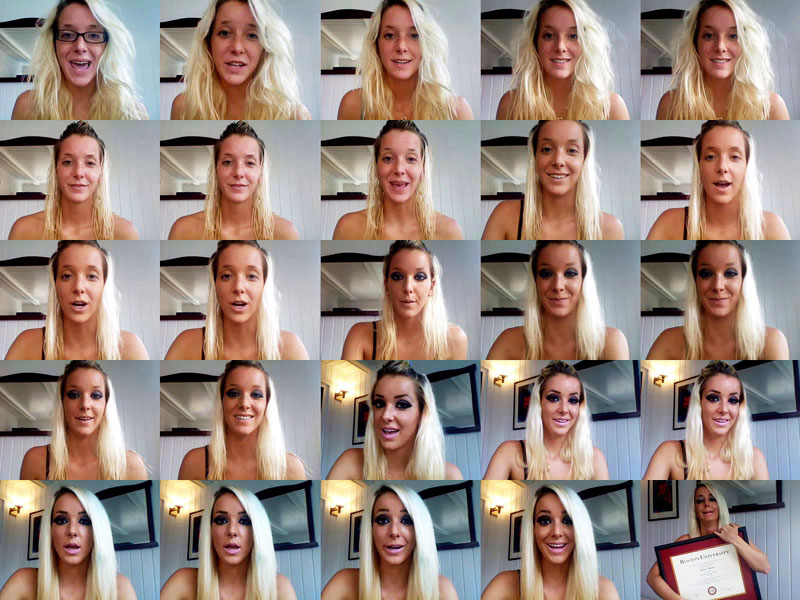 Jenna Marbles- How to trick people into thinking you're good looking.
Out of the nyt's this weekend comes an interesting profile on Youtube sensation Jenna Marbles who contemplates her meteoric rise on the internet and how in the end all she sought to do was express her disenfranchisement with being a woman and how inexplicably that translated to her becoming the face of all teens. Teens who one assumes are also grappling with the idea of their impending feminity…
nyt:  While few people older than 30 probably know who Jenna Marbles is, her popularity is unquestioned among teenage girls who live on the Internet. She has more Facebook fans than Jennifer Lawrence, more Twitter followers than Fox News and more Instagram friends than Oprah. Her weekly videos on topics as quotidian as "What Girls Do in the Bathroom in the Morning," "My Favorite Dance Moves" and "I Hate Being a Grown Up," place her in an elite club of more than one billion YouTube views, with more than eight million subscribers and growing.
"My perspective is to think, 'I just have a lot of Internet friends,' " said Jenna Marbles, 26, whose real name is Jenna Mourey (Marbles is the name of her Chihuahua). She acknowledges it is an odd kind of celebrity. She is a D.I.Y. digital entertainer who conceives of, stars in, shoots, edits and uploads her own videos — often in a single day.
Which poses the question what is it about Jenna Marbles that has transformed her into an overwhelming sensation? Or to put it another way, what is it about her videos that have brought her much fame and success. Yes estimates have it that last year alone she earned close to $380 000 off ad revenue. Not bad for someone who receives a million clicks a day.
"It's a very odd kind of skill we haven't seen in entertainment before," said Alan Van, the executive editor of the online media blog NewMediaRockstars.com, which began chronicling the emerging video genre in 2011. "Comedic blogging has mostly been a man's domain, but she's definitely at the top."
Being telegenic is one thing and self effacing also goes a long way. The lack of pretension and the simple ability to mock oneself and society and the challenges that afford young women also speak volumes for the pioneer who before she jettisoned the internet was a struggling doer of every part time gig imaginable:
Internet fame can come on fast. In the summer of 2010, Ms. Mourey shared a three-bedroom apartment in Cambridge, Mass., where her $800 rent was scrounged together from a patchwork of part-time gigs: bartending, blogging, go-go dancing at nightclubs and working at a tanning salon, where she remembers the singularly depressing chore of mopping up customers' sweat. Meanwhile, her newly completed master's degree in sports psychology gathered dust.
"My life was a hot, hot, hot mess," she said.
But then again who doesn't love a hot mess? Especially one that can allow similarly conflicted young women to reflect on their own hot mess and their own aspirations to a better life even in the omnipresent stare of glitz, female empowerment and celebrity. Which is to say anyone can become a celebrity these days…assuming they can also handle the criticism that comes along with being an irreverent force.
The bigger Ms. Mourey gets, the more she has had to grapple with the peculiarities of Internet fame. "Sometimes I like to think it would be nice if you just had a character and your personal life was your personal life," she said. "My life is definitely out there, you know?"
And perhaps her success can be best understood with the following which hints despite her fame and financial success there is a deep longing to connect with herself and the outer world, even if it involves countless fans that she never really gets to see in person…
 Ms. Mourey, on the other hand, still operates the camera by herself. She is adjusting to living alone in a city where, for all her Internet fame, she has few friends and rarely goes out.
Like lots of other YouTube personalities, Ms. Mourey said, "for the most part, we all just stay in our houses, alone, making videos."