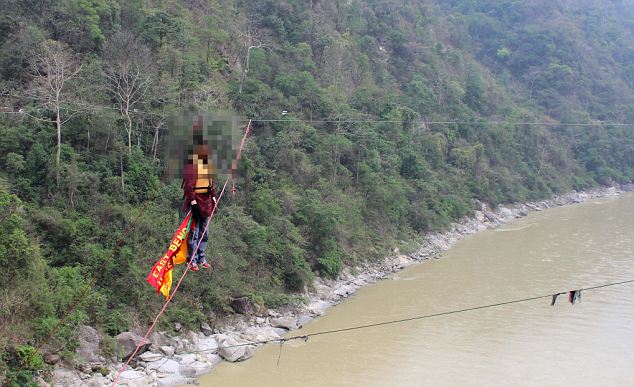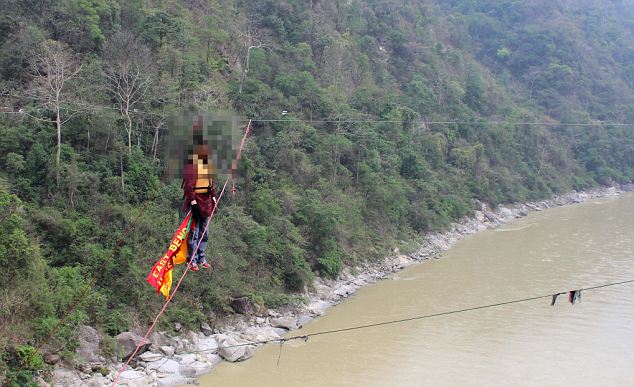 Indian Stuntman, Sailendra Nath Roy has died of a heart attack after attempting to cross a river on a zip wire attached only to his hair, as part of an effort to best a World Guinness Book record he already held.
At the time up to 1000 individuals had gathered to watch Sailendra Nath Roy when suddenly halfway through his feat his ponytail became stuck in the wheeler of rope. From there he was left hanging in mid air circa 25 minutes by which time he suffered a heart attack and died. According to observers he had frantically tried to free himself and then attempt to cross the balance of the ravine using his bare hands but by now had suffered massive heart failure. By the time rescue crews got to him after hanging lifelessly by now for 45 minutes, the stuntman was pronounced dead by the time he was taken to hospital.
At the time of the accident, Sailendra Nath Roy had attempted to best his world record for traveling the farthest using only his hair. A feat that he had chosen to attempt to accomplish over an altitude of over 10 000 feet at the Teesta River in Darjeeling, India.
Ironically many spectators failed to realize Sailendra Nath Roy was even in trouble because of the cheers flooding the area.
Told photographer Balai Sutradhar who was covering the event:
"He was desperately trying to move forward. He was trying to scream out some instruction. But no one could follow what he was saying. After struggling for 30 minutes he became still."
The UK's dailymail notes that Sailendra Nath Roy held several Guinness world records for pulling vehicles with his hair.
Local media outlets have since gone on to report that Siliguri police commissioner K. Jairaman said Roy who worked as a police driver had not acquired the necessary permission for the stunt, adding that Roy was not on duty at the time of his death.
The UK's Independent goes on to note the following as well:
A friend, who preferred to remain anonymous, said: "His wife used to urge him to quit doing dangerous stunts. Mr Roy convinced her that crossing the Teesta river would be his last. Unfortunately, that became his last stunt."