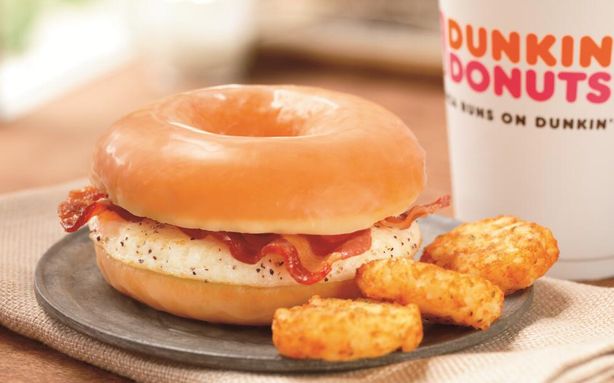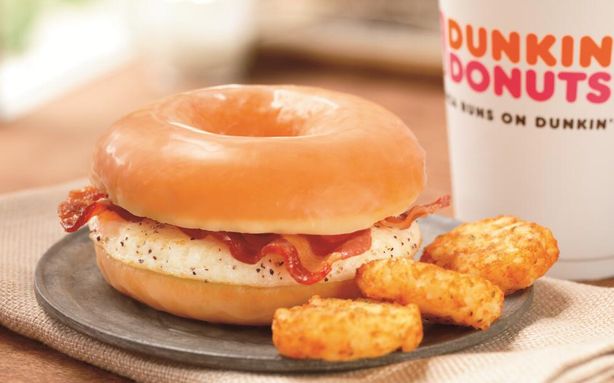 Something delicious for you to gorge over. Never mind your clogged arteries…
Here's something that ought to go well with consumers here in the United States: Dunkin Donuts glazed egg donut sandwich…
The sticky yum yum (admit it) featuring two crisp slices of bacon and a 'pepper fried egg' is said to be appearing in select eastern Massachusetts outlets according to the company.
But before you start chaffing at the bit, the outlet insists the new yummy isn't as bad as you may well think it is:
atlanticwire: According to a spokeswoman for Dunkin Donuts, the item weighs in at … 360 calories. 
Continues the atlantic:
At 360 calories, it's just 60 more than the Egg McMuffin, the staple breakfast sandwich at McDonald's, and 10 calories less than the Sausage McMuffin, both of which are unadulterated by something as indulgent sounding as a glazed donut.
So while it sounds bad, it's not as bad as its competition, which is a testament to the state of fast food breakfast fare today. Which means, you're no health nut to eat a Glazed Donut Breakfast Sandwich (obviously) but neither are you putting on a stunt eating competition.
Which leads to the next question, how well is the new must have mouth concoction faring?
When asked to describe the sandwich's popularity, a spokeswoman told the Wire, "We are pleased with the response so far, however, we cannot share any specific sales data. That said, the product has only been in restaurants for two days so we have limited information available." (We were able to corroborate the item's popularity using Twitter, where the sandwich is being met with a mixture of shock and, inevitably, desire.)
Shock and desire? Isn't that the ultimate definition of an oxymoron?
Why not, isn't it time you enjoyed the next must have 'what the hell kill my fat intake and sugar brain intake for the day?'