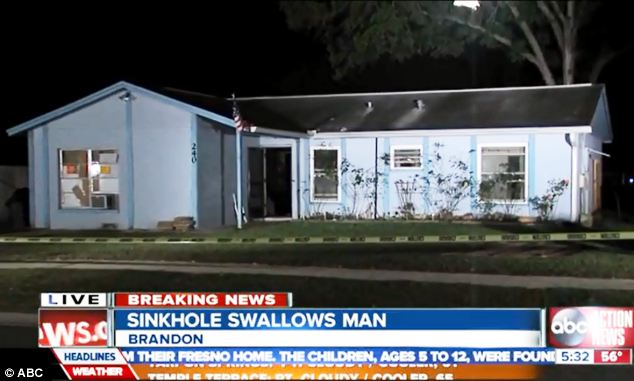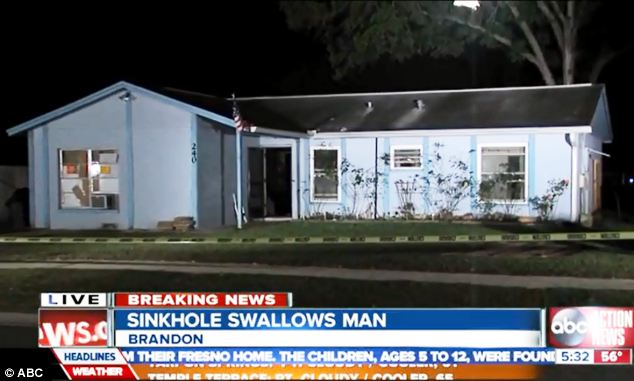 So much for sweet dreams…
A 36 year old Florida man, Jeff Bush is presumed dead after he was inexplicably sucked in by a sinkhole that erupted underneath his house.
The sinkhole said to be 100 feet wide opened up without warning, sucking the man who began desperately calling for his brother's aid as he became trapped in the ensuing rubble in his bedroom.
The incident said to have happened just before 11pm Thursday night had firefighters desperately trying to retrieve the man who by now was no where in sight. At the time firefighters went on to place listening devices and cameras in the hole but by Friday morning no contact with the man had been made, with officials now fearing that the man was dead.
Fire rescue spokeswoman Jessica Damico went on to say that the sinkhole was 30 feet across at the surface, with engineers estimating that below the surface it could be as wide as 100 feet and 50 feet deep.
Tampa Bay News, Weather, and Sports | WFLA
Investigators went on to say that the sinkhole was not visible above ground except from inside the house, and that they believe its center was beneath the bedroom.
Engineering officials are expected to arrive on the scene later today to determine the exact diameter and depth of the sinkhole, which is still developing. Officials said it is not man-made.
At the time the brother who rushed to his brothers aid was only able to find a dark room with no furniture.
Reiterated Damico: 'When he got [to the bedroom], there was no bedroom left. There was no furniture. All he saw was a piece of the mattress sticking up.'
Lt. Donald Morris from Hillbosourgh County Sheriff's Department described the scene officers found on Friday morning:
'The mattress, the bed, everything was actually going down in the hole where the first person had gone and now the second person is in the hole trying to save the first.'
'And they're not being successful so [the rescuer is] just reacting and doing what they have to do to get that person out. It was deep enough that the person he pulled out to safety was not ale to fully extend their arms and even reach the top.'
In the interim neighbors living on either side of the home have been evacuated who now fear that they too could be sucked in at any moment's notice.
Offered Dexter Barge with Hillsborough County's Code Enforcement via WFLA: 'It's the only one we've seen that opened up in this manner there is no evidence of the structure cracking or anything like that on the outside of the house.'