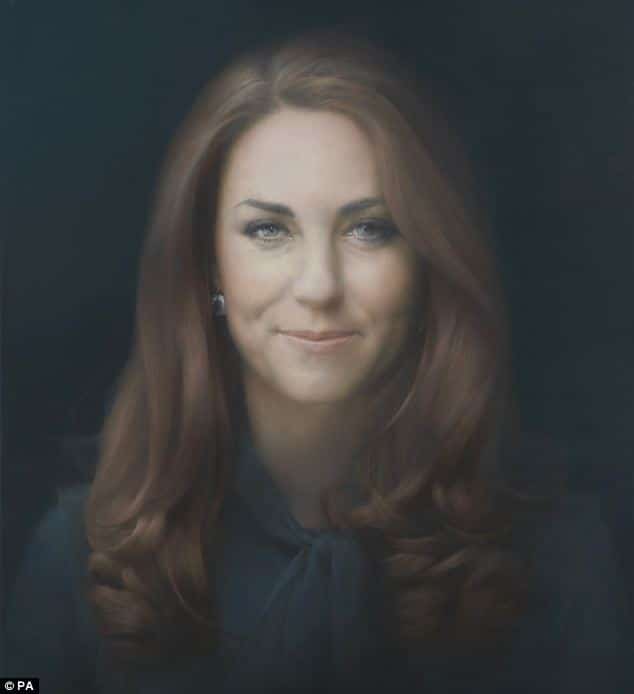 It seems not all are pleased with this morning's unveiling of the first official portrait of Kate Middleton, the Duchess of Cambridge.
Already critics are slamming the picture by Paul Emsley as 'rotten' with many arguing that the image looked 'nothing like Kate in real life.' 
The UK's dailymail goes on to note that the Sunday Times art critic Waldemar Januszczak called the portrait 'pretty ordinary… He made her look older than she is and her eyes don't sparkle in the way that they do and there's something rather dour about the face.'
Of course this all might be par for the course as Emsley is well known for dividing opinion with his often too realistic almost photographic style. Then again could it really be an issue that Kate appears to us as something else than who or what she may actually be in real life? Ought we really be surprised given the constant media coverage the Duchess receives that on some level she has transcended anything that any magazine cover or for that matter official portrait cover might be able to provoke? Which raises the real question, what then do we expect of Kate and ought we not respect the idea that in reality she may in fact be anything but the hyper glossy ingenue that the media so often desperately portray her as?
Local press have also gone on to report that Kate Middleton and her husband Prince William visited the National Portrait Gallery this morning and that the Duchess was thrilled. Thrilled that she is now being recognized as official? Thrilled because she doesn't want to create a stir? Thrilled because on some level she of all people really does identify wit the rather homely picture of her and perhaps on some level would rather be seen less as a glamor icon that someone of more weight and sovereign disposition?
Told Januszczak to BBC news: 'I was disappointed, to be honest. I have been waiting for it, like everybody else, with great expectation because the Duchess of Cambridge is someone who we know likes art and was presumably going to be an enlightened patron.
'But I think she's been let down really by the picture. In the end, it's yet another pretty ordinary painting of a royal of the sort that we've been really churning out for the last few hundred years in Britain.'
Which begs the question why then are we so disappointed when Kate is so thrilled? Is there really such a misalignment of what we expect from the Duchess as opposed to who and how she really sees herself?