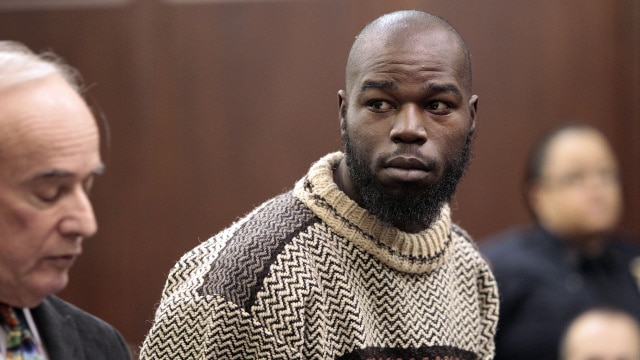 Ethical questions rage after picture of Ki Suk Han's imminent death appears.
Video captures subway passenger pushed to his death by deranged panhandler.
30 year old Naeem Davis, the emotionally distraught panhandler who originally confessed to pushing 58 year old Queens man Ki Suk Han onto the tracks of the 49th street subway station  and left him there to die yesterday during his arraignment pled not guilty.
The about face comes as Davis is now claiming that he was only acting in self defense when he shoved Suk Han, telling authorities that 'he attacked me, he grabbed me.' 
But here's where things get complicated:
gawker: According to Davis, Han was drunk and carrying a knife, but Assistant District Attorney James Lin disputed Davis's story, saying the former Deli employee calmly gathered his things and left the station after seeing the train deal Han a fatal blow.
Earlier reports said Han's wife Serim Han told police he had been drinking prior to leaving the house, and a law enforcement source told the Post Han was carrying a bottle of vodka at the time of his death.
Witnesses testified that Han and Davis were arguing loudly before the incident, and at least one witness named Han as the aggressor. 
Which leads one to wonder why hadn't Suk Han just left Davis alone? What was he hoping to achieve by approaching the deranged panhandler? Was this his way to console him, console himself inadvertently given the strife he had endured earlier that morning and the fact he was drinking, or was he just trying to reach out in earnest to an individual who he momentarily identified with and plead with him to rein in his obtrusive behavior?  Something that in the end may have paradoxically led to his own untimely demise?
Meanwhile, Han's only daughter Ashley spoke out for the first time yesterday about the controversy surrounding the lack of response to her father's ordeal from fellow subway patrons.
"The thought of someone helping him up in a matter of seconds would have been great," she told reporters, but added, "what's done is done."
Davis, who has multiple burglary and theft priors, remains in custody and is being held without bail.