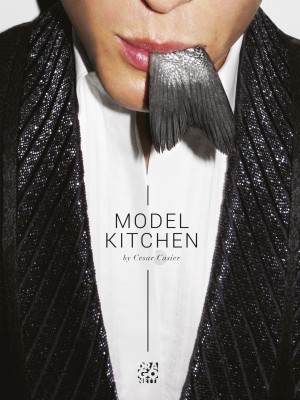 Kids here's a new cookbook just in time for the season's post holiday's that may help you all see yourselves shedding some of the weight we've you've put on these holidays. Best part of it is you're allowed to eat more than just celery sticks and chain smoke Marlboro lights…
styleite:24-year-old model Cesar Casier is a seriously healthy eater, as are his model friends (and yes, he emphasizes, they do eat!). So he decided to compile a book full of their favorite recipes for healthy, yummy eats, got his pal Derek Blasberg to do the editing, and Model Kitchen was born. 
Derek Blasberg? Hmm, that must mean it's good right? Derek always knows a good thing or two about polite manners, etiquette, hobnobbing and dare one wonders how to keep those razor sharp cheekbones of his shining nice and high. High being the operative word…
Tells Cesar to Fashionista: "There is a chapter with guilty pleasures that have all the desserts and scones and pudding and stuff. But the rest is all very healthy food–and easy to cook, which was important to me. Every recipe can be done in 10-15 minutes. I also have a chapter with juices, because we models like to juice cleanse before fashion week, so I [wrote about] my favorite juices."
Guilty pleasures? Kids my head is hurting. Who can't resist guilty pleasures? Not you I'm sure.
Of course this all sounds like a lot of fun and healthy but hardly sounds like the diet I used to have when I was a former model way back when. Half a baguette with strawberry jam in the morning. A caffe latte. The other half of the baguette at night with a fun packed can of tuna. And a cigarette or two.
Styleite go on to report the book is set to hit Selfridges, Colette, and Net-A-Porter in a few weeks, and Casier is looking to find an American publisher for wider distribution.
Isn't it time you got action thin healthy this season too?