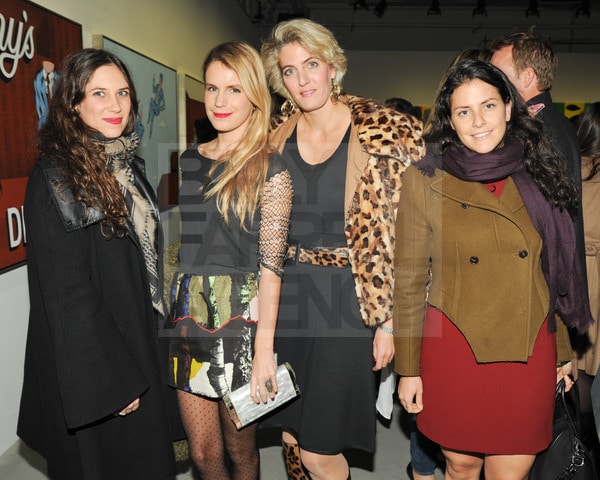 ABOUT THE ARTISTS:
Todd James is an American painter and an important member of the generation of self-taught artists who have influenced popular culture on every level. James is the co-creator of Street Market, a major work of the post-graffiti movement that was selected for the 2001 Venice Biennale. In 2011, a re-creation of this work was the central installation of the LA MOCA's sold out Art in the Street exhibition. Solo shows include Gering/Lopez in New York, Colette in Paris, Lazarides in London, Nanzuka in Tokyo, and V1 in Copenhagen.  James has exhibited his work at the Institute of Contemporary Art in Philadelphia and the Tate Museum in Liverpool. Several monographs of his work have been published. James lives in downtown Manhattan.
Alexis Ross is a Los Angeles based artist who works in a variety of mediums including sign painting, photography, homemade tattoos and playing potsey on the nickel. His work has been exhibited in galleries and museums internationally.  Ross is a member of Local 800 and co-founder of the Gents Of Desire. Like fellow club members, Ross practices what is better known as "touch of class;" while adhering to the club's seven rules… 1. Always project a fantasy. 2. Suit up and show off. 3. If you get warm take off the hot sweater. 4. Keep off the bandwagon. 5. No half stepping. 6. Run up or shut up. 7. Never go back.  His work has been shown at the Museum Of Contemporary Art, Los Angeles; Patricia Armocida Gallery, Milan; Los Angeles Contemporary Exhibitions, Los Angeles; and Laforet Museum, Tokyo.
Guests at the exhibition opening included:
Andy Valmorbida, PM Tenore, Todd James, Alexis Ross, Tony Arcabascio,  Michael Avedon, Bethanie Brady,  Ugo Cacciatori, Matilde Carli, Indira Cesarine, Julia Chiang, Nick Cohen, Ondine de Rothschild, Jeffery Deitch, Cheryl Dunn, Zev Eisenburg, Jessica Farrow, Joel Fitzpatrick, Sandra Gering, Kathy Grayson, Jessica Hart, Kim Hastreiter, Mike Heller, Nicky Hilton, Michael Karfelnikoff,  KAWS, Anouk Lepere, Nemo Librizzi, Joshua Liner, Elizabeth Loomis, Barry McGee, Nicole Miller, Jared Najjar, Eugenie Niarchos, Stavros Niarchos,  Meredith Ostrom, Sasha Pesko, Steve Powers, Pietro Quaglia, Terry Richardson, Vladimir Restoin Roitfeld, Aaron Rose, Eugenia Silva, Antony Todd, Peter Tunney, Maria Valmorbida, PC Valmorbida, Cameron Wilklevoss, Tyler Wilklevoss.