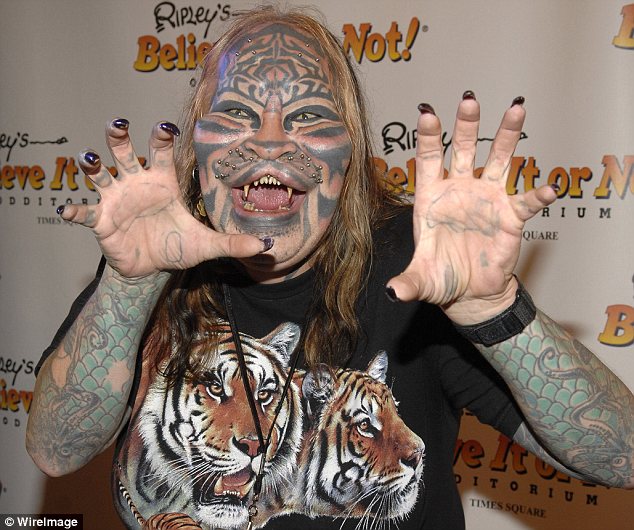 Speculation is running rampant as to the nature of the death of 'Stalking Cat,' 54 year old Daniel Avner who was found dead in his Tonopah, Nevada home on November 5.
A veteran of the U.S. Navy, it is said Avner, underwent a multiple of radical body modification procedures to make himself look like a female cat, from whiskers and ears to a mechanical tail.
Some of the operations Stalking Cat, as he is known by his Indian name underwent included bifurcation (splitting) of his upper lip, surgical pointing of the ears, sillicone cheek and forehead implants, tooth filing, tattoos, and facial piercing.
Offered Avner on his now defunct blog: 'I am Huron and following a very old tradition have transformed myself into a tiger.'
The UK's dailymail reiterates that Avner was descended from American Indians, and felt compelled after a discussion with a Native chief who inspired him to 'follow the ways of the tiger.'
With his overgrown fingernails, fangs and striped skin tone, Avner was said to be a highly recognizable figure in his neighborhood.
To date no official reason has been offered as to Avner died but some are wondering if he may have killed himself and if so, why?
Wrote former editor and publisher of BMEzine and friend of Avner, Shannon Larratt in a blog post: 'A wonderful and complex person, he was at times as troubled as he was remarkable, and he recently took his own life at the age of 54.'
Despite his unusual appearance Avner maintained his job as a computer programmer, although he often made television appearances and starred in Ripley's Believe it or Not! shows.
Offered one reader whose comment caught my attention: Watch the docu about him, and you'll discover why he's like this. Let me explain this to some of the ignorant imbeciles here: this is a clear form of escapism from a world destroyed by unbearable, unimaginable childhood abuse.
It is believed that Avner was subjected to a very troubling upbringing and sexual abuse growing up…which raises the question was he tormented by the beast within and outside?