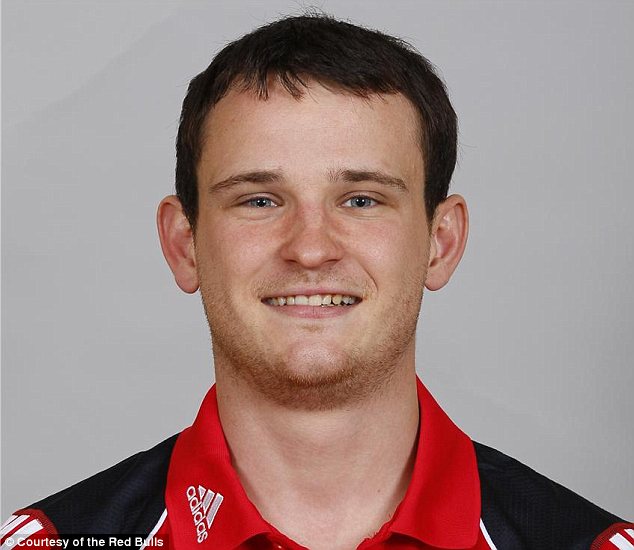 Michael Jones, a 25 year old NY Red Bulls youth soccer coach has been found murdered this morning , his body so brutally mutilated by his attacker that his severed ear was found in a puddle of blood a few feet away from where his body lay on the corner of 14th and 5th avenue.
At present authorities believe his murderer to be a Hispanic man aged between 25-35 with a dark pony tail as captured by surveillance video at the time of the attack circa 4.25 am this morning.
Told a law enforcement source to the nypost: "It was a frenzy. The guy was chopped multiple times."
"He cut the guy's ear off. It doesn't get any more personal than that."
The post goes on to describe the following:
Sources said a video showed Jones walking with his assailant down 14th Street near Union Square when the pair got into an argument and the man attacked.
The victim had been visiting a friend in the neighborhood until about midnight, when they parted ways.
Cops were trying to determine a motive but don't believe the gory attack came during a robbery, as a blood-covered iPhone they think belonged to the victim was found nearby.
Which brings into question what led to the brutal attack that took Mr Jones' life being so savagely taken away with. The severing of the ear along with knife gashes of Mr Jones' body is quite a virile act meant to deface his victim which makes one wonder what was the nature of the relationship between Mr Jones and his attacker? What comments, arrangement, dealings could these two men have possibly had or was this just the unhealthy reaction of an individual with pent up hostility who gave in to base behavior?
Offered the Red Bulls in a statement released late this morning:
"We are aware of this tragedy and on behalf of the entire organization, want to send our most heartfelt condolences to Michael's family, friends and loved ones. He was a tremendous individual, a fantastic coach who loved soccer and a terrific friend for many of us.
"This is truly a sad day for our soccer community and we will do our utmost to help authorities in their investigation of this case. Our thoughts and prayers are with Michael's family at this time."