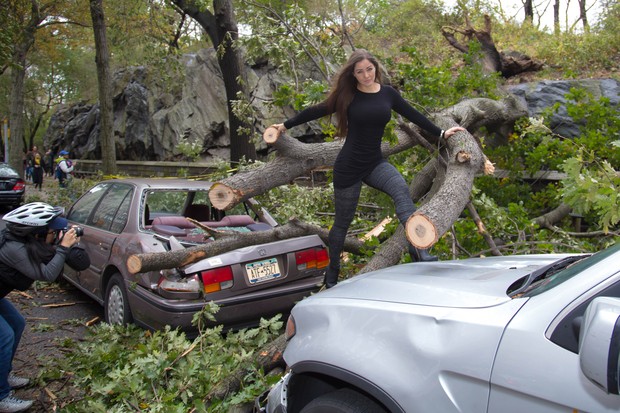 Broken streets and dreams debris? 'Sure as long as you keep the camera focused on me…'
If there is one thing that model/actress whatever Nana Gouvêa will always strive to attain it's her looking appropriately photogenic no matter what the occasion at hand. Which perhaps may explain the photo shoot courtesy of her and her husband who couldn't resist sharing herself in all her splendor post Hurricane Sandy with all it's beautiful destroyed back drop.
Reiterates gawker tumblr: The resulting photoshoot quickly went viral, with many questioning the tastefulness of a disasterporn photospread. (Gouvêa also became a meme, as images of her posing were quickly Photoshopped against backdrops of other tragedies.)
Personally I think the shoot came out quite smashing but in keeping to true form Nana could have at least stripped down to her bikini or something to keep us mere mortals properly enthusiazed….