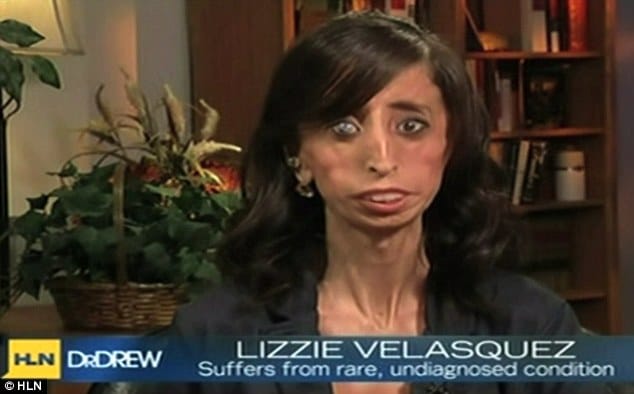 Lizzie Velasquez has to eat every 15 minutes or she will die.
At 23 years old, Lizzie Velasquez who suffers from a rare condition since birth that has ravaged her looks and health has had to bear unrelenting name calling and abuse at the hands of cyber bullies. But she hopes that a new book that she is planning on releasing will help address the misconception of her disease which she shares with only two other people in the whole world.
Born without adipose which helps individuals procure fat Ms Velasquez bears the unfortunate predicament of having no body fat which is vital for body sustenance and only weighing in at 58 pounds, this despite being mandated to eat up to 60 small meals a day.
Her book titled, 'Be Beautiful,Be You,' shares advice on being unique, how to make and keep good friends and how to deal with bullying and negativity something unfortunately that Ms Velasquez has had to learn how to deal with.
Featured as a guest on the Dr Drew Pinsky show acknowledges that when cyber bullies first started attacking her online it was hard.
'I'm human… of course these things are going to hurt… (but) I'm not going to let those things define me.'
'At the end of the day, these are just words,' Miss Velasquez told Dr Drew. 'If they are so proud, then they should show their face.'
Then there was this hilarious reflection when asked with how she relates to being stared all the time:
'I'm starting to want to go up to these people and introduce myself or give them my card and say, "Hi, I'm Lizzie – maybe you should stop staring and start learning".'
But in case you think Ms Velasquez is sitting there pitying herself wishing she looked like a Hollywood celebrity for instance she offers the following:
I feel I'm really glad I don't look like the celebrities out there who are beautiful, because there are a lot of stereotypes attached to that.
'People think "she's so pretty, she must be really dumb". Since I don't look like that it's better because people can get to know the real me.'
And for those curious to learn more about Ms Velasquez's condition there is this via the dailymail:
Professor Garg and his team now believe Miss Velasquez may have a form of Neonatal Progeroid Syndrome (NPS), which causes accelerated ageing, fat loss from the face and body, and tissue degeneration. People with PRS often have triangular and prematurely aged faces with a pointy nose.
He said: 'I am aware of a small number of people that have similar conditions to Lizzie but each case is slightly different.
'We cannot predict what will happen to Lizzie in the future, as the medical community are yet to document older people with NPS.
'However Lizzie is lucky to have healthy teeth, organs and bones so the outlook is good. We will continue to study her case and learn from her.'
Miss Velasquez doesn't take medication but she relies on vitamin supplements and iron to stay healthy.  It is thought she should be able to conceive naturally without passing the condition to her children.
Her new book is out on September 13.
All of which posits the ultimate question why is society so incessant on punishing an individual who through no fault of their own does not approximate ideal beauty standards? Are we to really believe falling short of such standards is an indictment on such individuals, or perhaps as one senses an indictment on society that relies on pre conceived notions in order to absorb and mask their own short fallings…?
But perhaps the comment that best sums this author's own feelings (yes I too was bullied as a young child for being different in my own way) about Ms Velasquez's journey is the following:
What a great inspiration she is. I wish that all the kids wo are bullied would realize what she has, that it is the BULLY that has the problem and not the one being bullied. If someone treats you horrbly then they aren't worth it, forget it and know that you are a good person then move on. People who are your friends and care about you don't make fun of you.