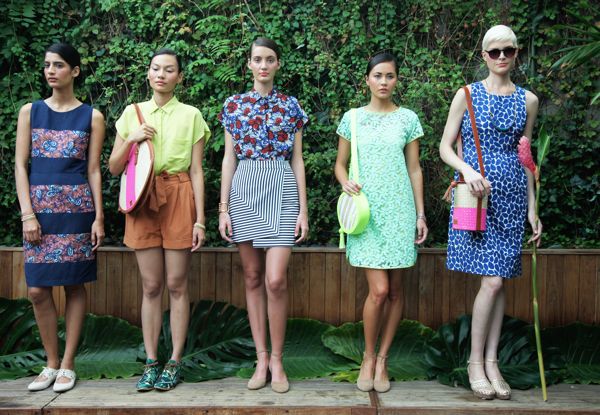 Just as my nostalgia for the summer had begun to set in, Whit's Spring/Summer 2013 presentation at the Cabanas at the Maritime Hotel took me right back to the palm trees and inner serenity of a vacation I once knew. Amongst the ample greenery, island style décor and mellow music, I wasn't in New York anymore.
I could feel how inspired Whit had been by her honeymoon to St Lucia and her experiences reconnecting with nature sans technology. Each look was effortless yet full of understated glamour- if Ginger from Gilligan's Island had seen the collection, she'd surely covet each piece. I was particularly impressed by the versatility of the garments- a large portion would be appropriate for a variety of events, at any time of the day.
Prints and colors in easy silhouettes ruled, all alluding to the larger part of Whit's concept, bringing her experiences in nature to the city. This was especially evident in a floral print top and striped skirt combination; the industrial aspect of the stripe juxtaposed the tropical floral in a new and exciting manner.
Whit spoke to me in greater detail about the collection with excitement:
"Our company is three years old and we've been working nonstop, this is the first time we have taken a breather, no cell phones, we were trying to bring that back to the city. These are really city-friendly shapes with a vacation vibe to them. The trip gave me some breathing room in my brain. To go where it's just you with water and nature, it gets rid of all the commercial stuff you're always seeing in the city, and brings you back to a clear point of view. I feel this collection is the most 'Whit' since the beginning, it's very much the core of who we are- the prints, the colors, it's a little preppy but very relaxed preppy. It's a little bit more grown up, we were really able to round out what the Whit girl wears."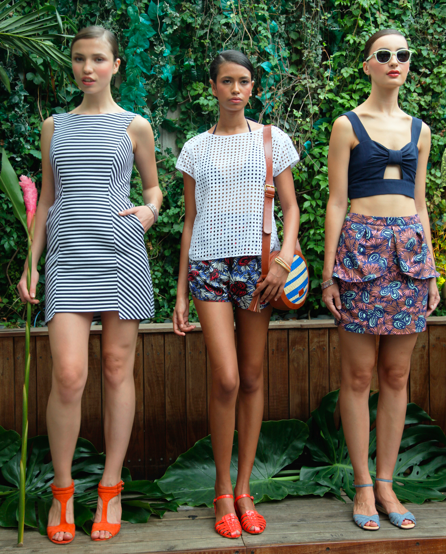 I was also interested in the presentation aspect, as her previous collection had been shown on a runway:
"I really like runway," she said, "It was really fun for Fall. But for this collection, it has such a nice, loose, outside feel, I didn't want to force it into an indoor space. I wanted it to be outside, really relaxed, really breezy. I wanted to be able to see everybody and talk to them. I like seeing the whole story together. It's such a print driven collection, and everything balances when you see it as a group, as opposed to one by one."
I suppose we will have to wait until the collection hits stores to recapture that island feel, but until then, I will dream of wearing my favorite item from the collection- the effortless layered pink dress- on my next vacation!