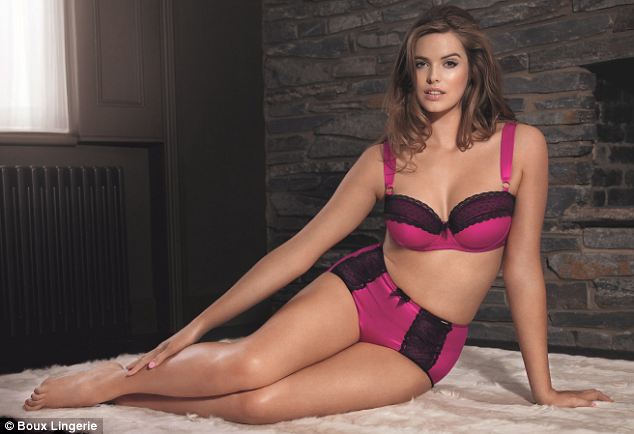 It must be tricky going up against preferred stereotypes but that has hardly deterred plus size model Robyn Lawley as she has competed head to head against your typical thin lanky model in nabbing some prestigious modeling assignments.
In fact Robyn Lawley's success is more than probably attributed to her curvy and healthy demeanor which some high end editorials have been savoring as she has been featured on Vogue Italia, French Elle and most recently the first plus size model in a Ralph Lauren campaign, breaking apart ingrained notions that bigger can not be beautiful.
At 6'1" the size 12 model has reveled in her success and gives an interview with People magazine where she discusses how she has come to terms with her physique and how far she has come from her childhood where she described herself as the 'embarrassed chubby kid.'
These days she just simply tells all 'I look hot.' If the following pictures show anything, it is in fact that Robyn Lawley does indeed look very hot and her success is helping many in the fashion industry (finally) appreciate that beauty needn't only come in tall thin gaunt women but healthy curvy robust women too.
But warns the native Aussie it wasn't always easy getting accepted. When she first set out modeling in her native Sydney, Australia she was advised to go on a diet and shed the pounds.
Reflects Lawley: 'I was big boned.'
Skipping meals and being consistently feint the model eventually dropped down to 136 pounds but a sojourn in France where she put  modeling on hold saw her putting aside her dieting and putting on 40 pounds.
Returning to Australia, seeing other plus size girls dotting the landscape she sought to join a plus size modeling agency herself and that's when everything changed for Ms Lawley.
Reflects the model who has made NYC her home these days:
'I tell tall girls, being tall and curvy is the double whammy! But confidence is really sexy. I love my shape. I love my body. I've come a long way.'
She adds: 'I genuinely want companies to take notice and start being more realistic about who their customer really is. I hope to keep breaking down those barriers.'
"When I signed on as a plus-size model my friends and family were shocked because I'm a normal girl," she says. "My friends are my size. They see their bodies in mine, so it gives them hope. They can see me in a lingerie ad and say, 'I want to buy that lingerie, I'll look amazing.' If people can relate to me, it's a good thing."
Let's hope the fashion industry begins to take notice too….