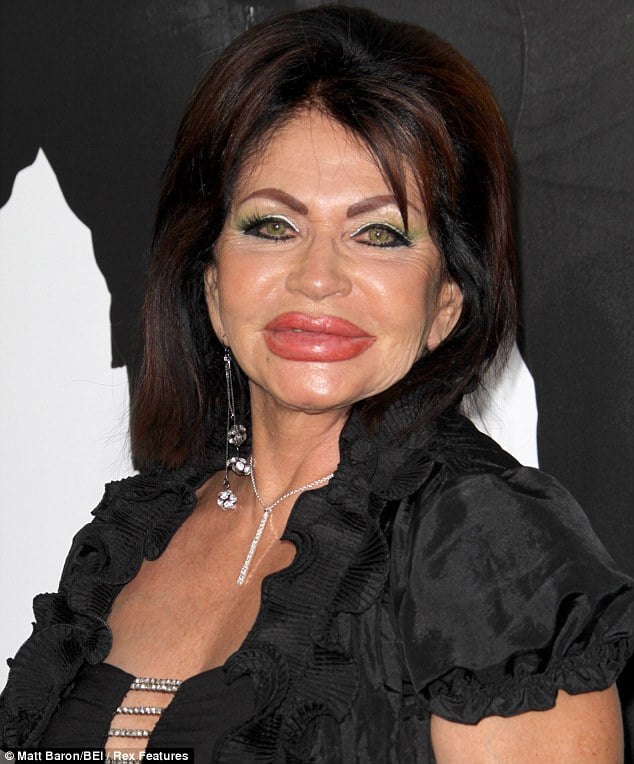 Even 90 year old somethings have egos and why should we refuse them when they come barreling down the runway looking like the hawt mess du jour that they crave to be. Case in point, Jackie Stallone, Sylvester Stallone's mother who at the age of 90 can still wack some shine, lipo, and any other shit that's necessary to help that lip pout of hers be forward protruding as possible.
Dressed in an impeccable black frilly dress (yes moma Sylvester will teach you about class) Jackie was all the rage as she cocked her very crooked grin for the cameras (when you hav clout the world is always yours for the taking.)
Adds the dailymail, who have in this instance nailed Jackie's disposition to the t:
Apparently her quest not to grow old gracefully has continued in earnest – and she appears to have had a fresh bout of collagen injections.
Three-times-married Jackie, whose maiden name is Labofish, was dressed in an outfit you wouldn't catch your average 90-year-old grandmother in: it consisted of a short black skirt and plunging blouse, strung together by jewelled strips.
Plunging blouse? Well that's just Jackie's way of reminding you she's still got the good shit if you don't mind taking a peek.
She completed her look with platform heels – adding some height to her diminutive stature – and wore green contact lenses, heavy eye make-up, including thick painted-on brows.
Including thick painted on brows? Oh my who would have thought that Jackie really knew which way the world ticked in the first place? Never mind, if Sly can dress and behave like a peacock, guess who else can dress and behave like a demented peacock too?