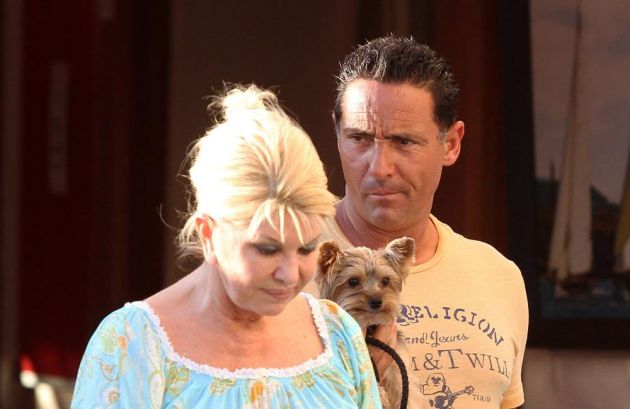 Ivana Trump is also a preferred hawt bixch thank you very much…
Ivana Trump may be 63 years old past her prime (define prime by the way) and was at one stage married to real estate mogul, Donald Trumpwho cashed Ivana in for a newer, younger chi chi (careful what you wish for ladies) but that certainly hasn't discounted the hotness factor that Ivana Trump still carries as she was recently seen strutting the planks in St Tropez with her new (much younger thank you very much bixches) hawt bixch, Marc Antonio Rota.
Reports page 6: Spies tell us that Trump and younger Rota — who've been quietly dating since last winter — "seemed madly in love" at the fete a few days ago where Rota, an Italian real-estate entrepreneur, serenaded Trump and her guests at the Pan Dei Palais by singing an Italian love song while wearing a white tux-and-tails.
Madly in love? Serenading our hawt bixch with Italian love songs? My gosh Ivana! Seems you got it real good after all. In fact the couple managed to get some tongues wagging:
"Tongues were wagging that Ivana brought him for all the world to see," 
Brought him along to share? But what's a girl to do when she comes across a new handbag?
According to page 6, the couple who are definitely very hot for each other have no plans at present to marry, but they do point out that Ivana does have a predilection towards Italian men and of course wealthy established ones which we will assume that her new hawt bixch Marc Antonio Rota certainly is.
Don't you wish you could still pull them in ladies once you get past a certain age ladies? After all if men can do it (they are certainly are after all encouraged) why not you. Watch Ivana and learn….
Ivana Trump shows off in stunning bikini with mystery beau.
Ivana Trump has a mental breakdown at the airport