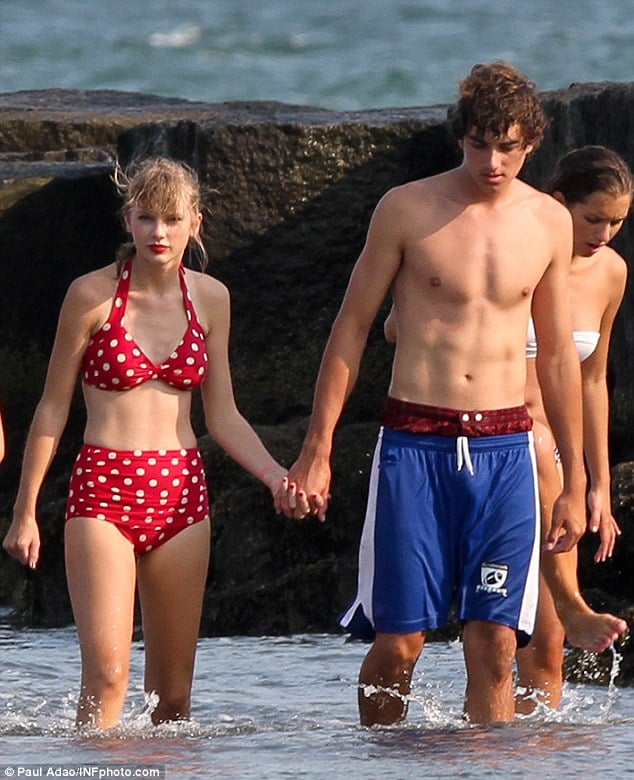 Taylor Swift consoles Conor Kennedy as they visit grave of his mother.
Taylor Swift knows a good hawt bixch when she sees one…
Looks like there is love a blooming over there by Cape Cod, Massachusetts now that pop sensation Taylor Swift has taken a keen eye on Camelot heir Conor Kennedy.
The two were spotted yesterday frolicking in the surf at their posh Cape Cod hideaway, and what a sight they were.
Wearing a traditional red and white polka swimsuit ('I'm quite modest,' Taylor could almost be heard whispering into Conor's ear) the 22 year old country singer and her young love (he's only 18, but who's noticing?) wrought quite the fetching pair. But then who could have thought a pop icon could make it with a Kennedy, who by virtue of their name and influence in American life are synonymous to American royalty. Assuming of course such things matter to you in the first place.
And in the event you are inclined to think this is a summer fling, think again. It's already been reported that the country pop singer has sought to acquire a $4.9 million oceanfront mansion directly across from the Kennedy compound where the family spends its summers. Which is to say we can expect things to sizzle going forward, never mind that Conor is only 18 and could probably make any young woman swoon with desire. He is after all American royalty and even that good shit has my heart racing a smidgen as well.
Nevermind, let's hope these two find the love and adulation that comes with young love, millions and millions of dollars and a family legacy aside….