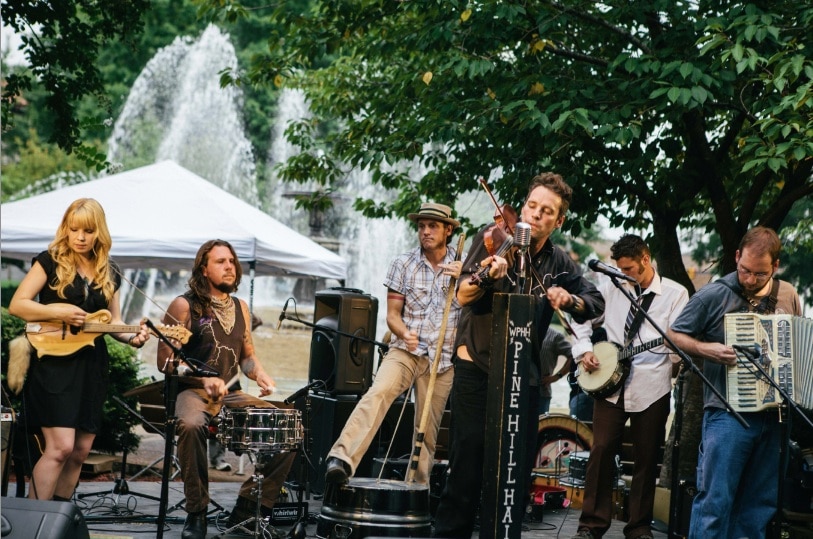 This weekend in Florence, Alabama, designer Billy Reid hosted his annual Shindig, a weekend of music and fine Southern culture, now in its fourth year. Kicking off on Friday, August 24th it was a fun-filled weekend of delicious food and amazing musical performances.
Shindig commenced with a book signing at the Billy Reid flagship store with John T. Edge, writer and director of the Southern Foodways Alliance, who signed copies of his new book "The Truck Food Cookbook". A seafood dinner was served that night courtesy of Chef Chris Hastings and Alabama Gulf Seafood, followed by a concert in the park featuring Doc Daily + Magnolia Devil, The Weeks, The Pine Hill Haints, and Wild Cub.
Guests then headed to the Shoals Theater in downtown Florence for an epic sold out show by the Alabama Shakes, performing for the first time in their home state since they blew up on the music scene earlier this year. Jonny Cordawg opened the show. The after party carried on long into the night behind the Billy Reid store. It included a performance by Wild Cub who invited Billy to join them on stage and jam out until the wee hours.
The next morning on Saturday August 25th, guests enjoyed a brunch at the Billy Reid store prepared by Chef John Currence. A lake party followed with more musical performances from The Pine Hill Haints, Bryan Cates and Roman Candle. A great spread of food was served by the Fatback Collective, with pork rub trimmed bloody mary's and donkey punch (hibiscus syrup, line juice, bourbon and tequila).  Beverages served throughout the weekend were courtesy of Good People, Heineken, Woodford Reserve, Buffalo Trace and VitaCoco.