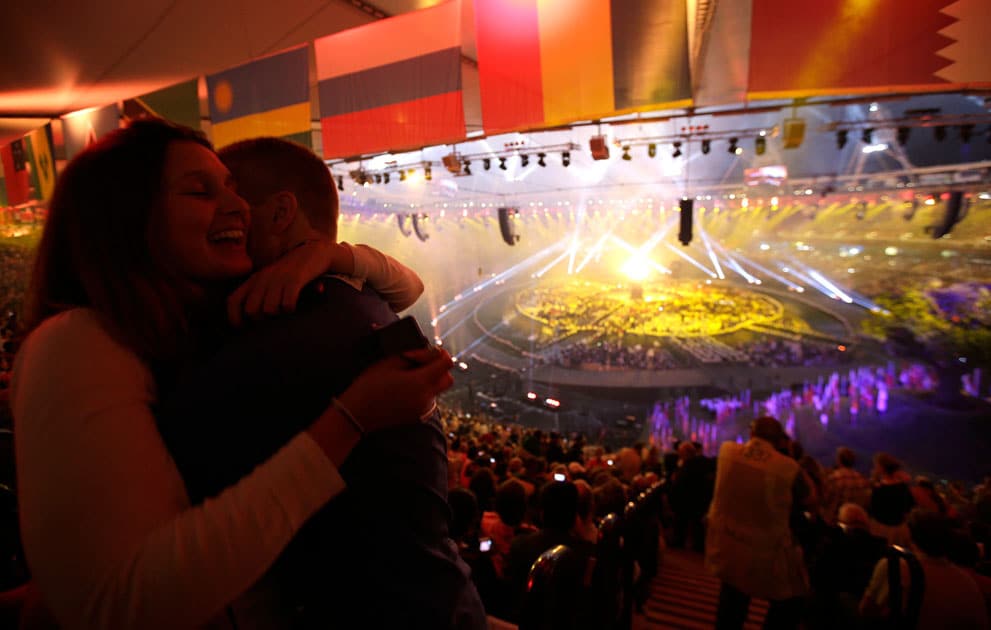 David Beckham ferried the Olympic torch and we all fell in love again….
Rowan Atkinson is shear brilliance as Mr Bean at London Olympic Games opening ceremony.
Perhaps few events in the world have the power to unite and draw our collective imagination than the Olympic games. A tradition re packaged from the Ancient Greeks where in fact the first modern Olympics were held in Athens in 1896, it stands as a testament to humanity's desire to excel, boast and be adored and to adore the best. It's simple presence comes down to the exquisite prowess of the athlete who can lift more than his fellow competitor, run that extra hundredth of as second faster than his competitor, swim that thousandth of a second faster than his competitor, hurl a piece of metal farther than his competitor, and so on but most importantly to find that specter of self that will allow them to take them to the greatest heights of their being and by osmosis our collective height as viewers.
This in a nutshell is what the Olympic games have always been and why it is that they have been adored and fixated over. What human doesn't wish to excel and find pride in their capabilities and achievements. But as the discussion below intimates how well did Danny Boyle's director of Opening ceremonies really do and did he do the games justice? For those of you who don't recall,Mr Boyle is the English director of "Trainspotting" and the Oscar-winning "Slumdog Millionaire."
There then to bring all of the above into a kind of wonderful showcase for the giddy who will watch over the next 16 days included a myriad of London's finest entertainers, actors and simple men and women who toiled ceaselessly to bring the joy of an Olympic opening ceremony to the world at large.
With an emphasis and tribute on British culture (why not show off whilst you can?) and heritage, from agrarian beginnings to pop culture successes (yes this is so often what defines most Western states today, but must we adulate it at every turn?) last night hosted more than 200 nations as they athletes proudly paraded on behalf of their nation, a cacophony of fireworks an endearing performance by Sir Paul McCartney (although some comments on the web were not very flattering towards the man from Liverpool, 'his bloody voice is shot dahling,' oh well), the local lad who did Britain right as he sang 'Hey Jude,' and a hilarious rendition of Chariots of Fire theme song with Mr Bean aka Rowan Atkinson (which was bloody brilliant thank you very much).
Then again not everyone loved the opening ceremonies,which ought to make sense as everyone has a different opinion about things, which led me to including the following from the americanthinker:
Rather than celebrate Great Britain's extraordinary contribution to the world in the Opening Ceremony of the London games, director Danny Boyle produced an extravaganza of mediocrity, purposefully avoiding the real story of England's incontrovertible success as, by most measures, the greatest world culture since Rome.
But none of that for Danny Boyle. The rise of industry in his vision only brought war, requiring a mandatory moment of silence – a real buzz killer in opening ceremony circles. A tribute to the woman's suffrage movement failed to rekindle the crowd, nor did the carnival that appeared for no apparent reason. And what was Kenneth Branagh doing walking around the proceedings in a top hat and mutton chop whiskers.
Then there was comment from the nypostwhich brought a rueful smile to my face:
Chickens, cows and sheep?? Smokestacks, Mary f#*king Poppins, and the National Health Service?? It couldn't suck enough.
On a final note  I was somewhat disappointed to note that the Queen failed to smile when an actress playing her jumped out of a helicopter with James Bond. Perhaps the Queen simply doesn't  see herself as much of an action hero, oh well….
Below are photos via the atlantic. There are many more there to marvel at and I suggest you go have a look.