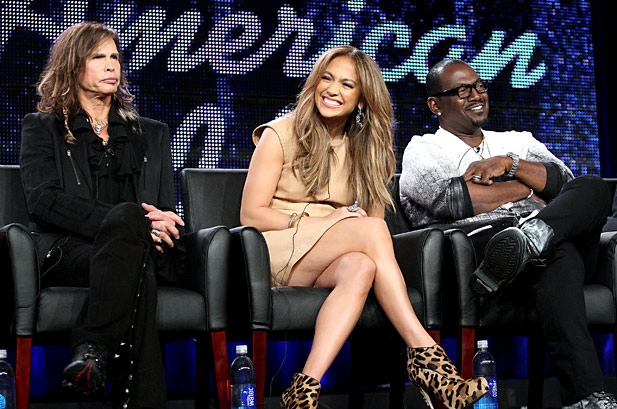 Who will help hoodwink judge America now?
Fame whores Steven Tyler and Jennifer Lopez within the space of 24 hours have both announced that their opinions on who actually has talent will no longer matter after publicly stepping forward and disclosing that they are moving on to other projects (ie making more money somewhere else).
Aerosmith's Tyler's announcement came yesterday afternoon after a vague message (he threw some shit in there about Glenn Close from Fatal Attraction) that intimated he was leaving because he was either bored, sad, too big for the show anyway or simply too rich or about to become rich and that the gobs of money thrown at his face really  meant nothing to him anyway wanted to re connect to his band.
JLo on the other hand chose a carefully scripted manure pile from which she described to Ryan Seacrest on his radio show that life is a carefully fabricated chicken pot pie and unfortunately since there was a larger chicken pot pie waiting for her in another room sadly she'd have to save her appetite and munch on that bixch instead.
"It's just really going to be hard for me to go," a whiny Lopez said. "It's just one of those special things in your life that, you know, you don't want to walk away from." Bixch said it ultimately came down to making a shitload of more money somewhere else "a business decision."
Rumored replacements for fame whores include current fame whores Ron Jeremy, Charlie Sheen, Mariah Carey, Randy Jackson, Bob Hope, Fergie and Adam Lambert.