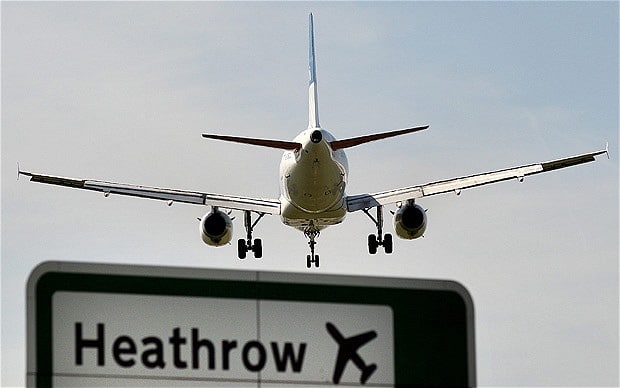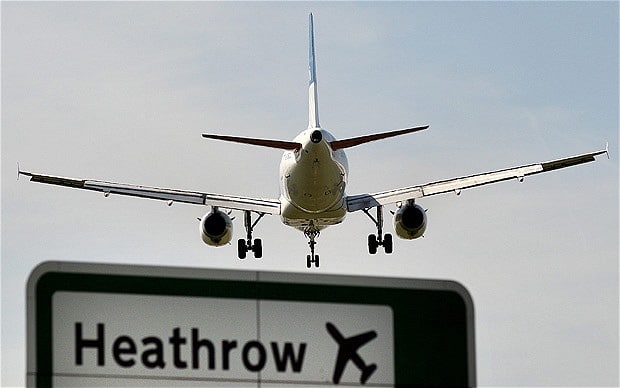 It seems things are already beginning to take a toll on Heathrow airport officials as the London 2012 Olympics are set to start a few weeks away as reports begin trickling in that the hub airport is already at over capacity and that many passengers are finding themselves being unattended to by immigration desks and some waiting futilely for hours.
telegraph.co.uk: Angry passengers reported queuing for nearly two and a half hours last week – with some starting far outside the immigration hall – to be met with empty passport control desks and uninterested staff.
Labour on Sunday night warned the Government it had to get a grip of the "immediate crisis brewing less than four weeks before the Olympics".
BAA, which runs Heathrow, admitted that target times for passengers passing through immigration were missed.
Hardly good news. So what are authorities doing about it? Apparently not very much…yet.
On Friday passengers at Terminal 4 were stuck in half-mile queues, starting long before they even got to the immigration hall.
They said that once they got there, two out of three desks were not manned and immigration officers "talked among themselves" while ignoring passenger demands to know what was causing the delays.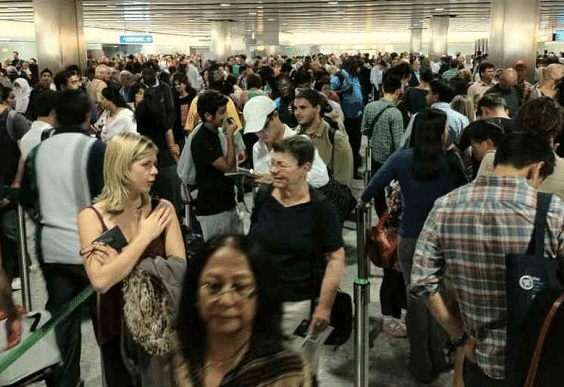 Officials were also seen trying to prevent passengers taking photographs of the chaos as an estimated 4,000 people waited in line.
Preventing passengers from taking pictures of the chaos? Surely authorities must be aware that something has to be done about this mess and if they are to avoid stress and inconvenience they must find a solution that may involve unpalatable compromises that offer  employment guarantees something union officials are demanding despite the cost of implementing such procedures. Never mind the hefty tax surcharges in place…
From July 15, an extra 72 immigration workers will be available, boosting numbers from 453 to 535.
But civil service unions have predicted even longer queues if the Border Force presses ahead with plans to cut the number of staff from 8,500 in October 2010 to around 5,000 by 2015.
Yet despite the temporary bottleneck border officials promise to resolve the brewing crises:
A Border Force spokesman said: "We are fully prepared for the busy Olympic period and will be implementing our well rehearsed plans.
"This includes staffing all immigration desks at key ports whenever necessary during the peak Olympic and Paralympic arrivals period."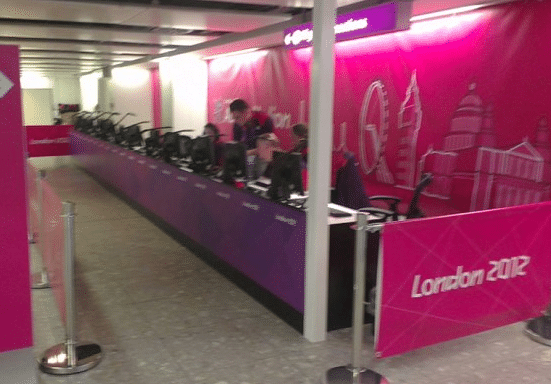 But perhaps one of the most astute comments came from one telegraph reader who noted the following:
I agree, we need a new airport  is that why the government are dragging its feet on aviation policy.  
All the greedy airports are trying to fill their pockets as they all commit to expansion without looking at what people want or a population needs??? 
To gain popularity in visiting the UK the only thing we can do is build a NEW AIRPORT ASAP?
New airport asap? That's rather wishful thinking it seems and then there was very clever practical response that some of you may want to heed:
I've never understood the obsession with arriving in London via Heathrow. There are so many other alternatives where passing through immigration isn't an extreme form of torture.
I haven't used the airport for 12 years and would never go near the place.
So how ready are you for the London 2012 Olympics? Getting there may end up being an Olympian feat onto itself…Personaly I'll be watching all the action from the comfort of my air conditioned abode.