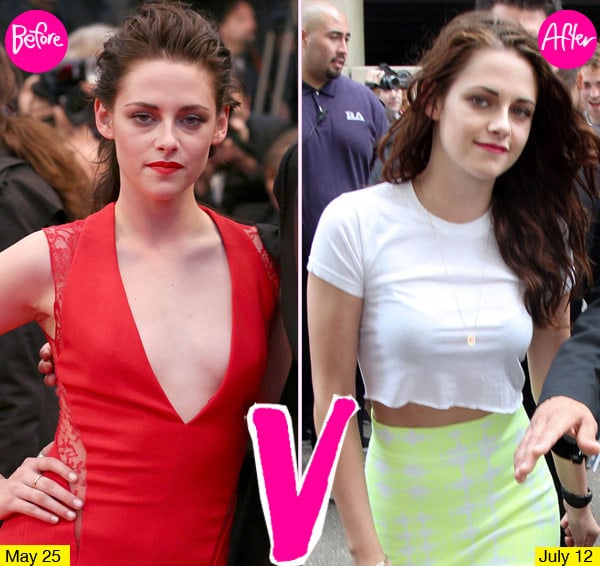 Seems like the world's most over paid loved celebrity, Kristen Stewart has gone off and added new breasts to her resume. At least that's what a couple of plastic surgeon think after celebrity blog hollywoodlife(see this is what you have to look for when you finally become famous bixches) sought their valued opinion.
Offers NYC based plastic surgeon Dr Matthew Schulmann:
"Her breasts have gone from what looked like a large A cup to a large B cup."
Hmm. Interesting. Offers another plastic surgeon, Dr Anthony Youn (girls don't forget to call these bixches for your free consultation, just say you read it on some gossip site)
"While this might be the result of a new, state-of-the-art bra, it's most likely the result of a breast augmentation," 
Yes kids, I'm staring at the above picture too. I must agree those chi chi's are looking rather perky all of a sudden. But then this is what happens when you live in America, getting a new body part is like getting your driver's license when you turn17, even for movie stars.
Adds hollywoodlife:
One of Kristen's friends tells Star, "Her small chest has been a source of unhappiness for Kristen. But now she doesn't feel the ned to hide anymore. She finally has the body she's always wanted."
Doesn't need to hide anymore? The bixch is on more tv shows and billboard than the sky is blue. Then again what do I know I'm just a deprived Kristen Stewart fan who'll take her anyway which way I can.