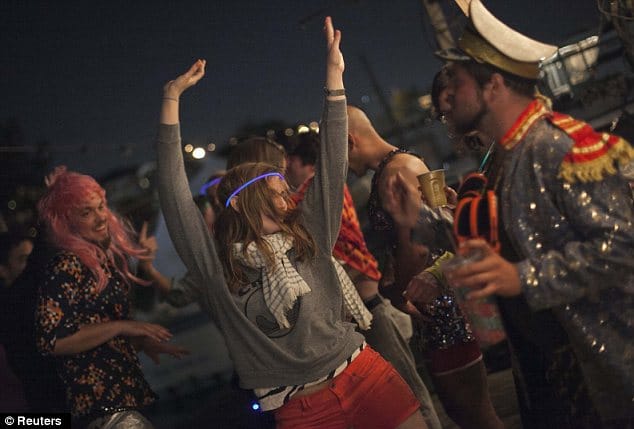 A group of NYC artists have come up with a new haven allowing fellow minded revelers to drop by for some some off the radar hobnobbing. The only caveat? The overhead planes flying up ahead over at JFK airport, and of course the mosquitoes. And if you're looking for luxury you can count that out too.
dailymail.co.uk: The hotel is made up of 16 boats, each sleeping between two and five people, docked at a marina in the Far Rockaway area of Queens.
The boats which provide the Boatel's accommodation have all been renovated by teams of artists, in an attempt to make them as much an aesthetic experience as a chill-out zone.
But in case you think this flotilla of boats are staying vacant think again….
But this has not stopped adventurous New Yorkers from booking their place on the project – every boat is taken on every weekend from now until September.
Guests are welcome from Wednesday to Sunday each week, and 'donations' to cover the cost of the stay range from $55 to $100.
But then again perhaps lounging around on the boat in the outer boroughs may or may not be for you. Then again perhaps that depends on one's definition of what summer living amounts to?
An expose on the Boatel last year via the nyt's offers the following:
"My friend and I always argue about whether or not living on the water is like living at the end of something or living at the beginning of something," she said in an interview on a houseboat the weekend before the Boatel opened. "It's just always sort of felt like the leaping place."
The project is not licensed as a business, and the nightly rental fee, which ranges from $50 to $100 depending on the boat, is billed as a donation. "Let's first get one thing straight," reads a welcome letter sent to its guests. "We are not a real hotel. This is an adventure at best and an art project at worst."
Not a hotel, but an adventure at best? Is this something that could appeal to an eclectic New Yorker? Then again perhaps the only way to find out is by making arrangements to drop by. Of course be sure to bring some spray for those mosquitoes and a bottle of asprin for the likely hangover the following morning….