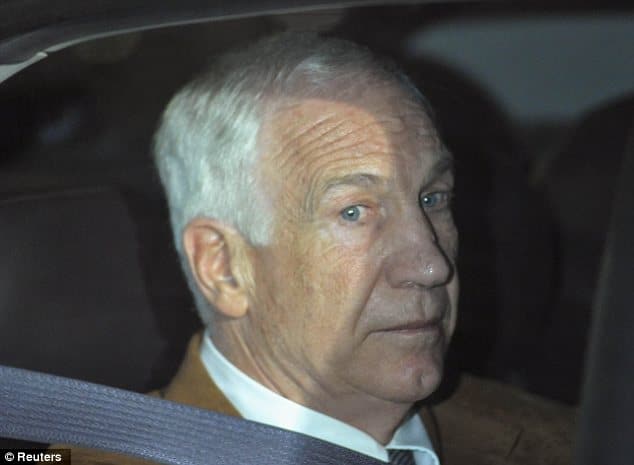 Coming to terms with a series of crimes that usurped a venerable entity's reputation.
Jerry Sandusky, a former assistant coach of Penn State University football team has been found guilty of 45 counts of child sexual abuse whilst acquitted of 3 other counts. The maximum sentence Mr Sandusky could now receive equals 442 years behind bars. He now is heading to jail where he will be placed on suicide watch.
The conviction of Mr Sandusky brings to an end one of the most horrific chapters of the ivy league University which has now found itself looking deeply within to come to terms as to how such a situation could have ever presented itself and why for that matter it went on so long with the complicit knowledge of University seniors. Point in case legendary head coach Joe Paterno who died of cancer in January.
As the verdict was being read Mr Sandusky who did not take the stand in his own defense, showed little emotion, instead he walked calmly as he was handcuffed and taken by the sheriff to jail. Crying hysterically in the courtroom was his accuser, otherwise known as victim 6.
Outside the courtroom loud cheers could be heard from at least a couple of hundred people who had gathered to take in the court's verdict.
Said the university after the verdict was read:
'The legal process has spoken and we have tremendous respect for the men who came forward to tell their stories publicly. No verdict can undo the pain and suffering caused by Mr. Sandusky, but we do hope this judgment helps the victims and their families along their path to healing.'
In an effort to stem's the university's own liability it also offered the following:
'The University plans to invite victims of Mr Sandusky's abuse to participate in a programme to facilitate the resolution of claims against the University arising out of Mr Sandusky's conduct.'
Mr Sandusky has all a while maintained his innocence whilst his defense suggested that his accusers had a financial motive to make up stories, years after the fact.
During the trial, one accuser testified that Mr Sandusky had molested him in the locker-room showers and in hotels while trying to ensure his silence with gifts and trips to bowl games.
He also said Sandusky had sent him 'creepy love letters', which a psychologist argued were the result of the former coach's 'histrionic' personality.
Another spoke of forced oral sex and instances of rape in the basement of Sandusky's home, including abuse that left him bleeding. He said he once tried to scream for help, knowing that
Sandusky's wife was upstairs, but figured the basement must be sound proof.
During the trial prosecutors offered that Sandusky used gifts and the allure of Penn State's vaunted football program to attract and abuse vulnerable boys who came from troubled homes, often ones without a father figure in the house.
At present commentators have argued that the court's decision has restored their faith in the court system although what is questionable is whether faith will ever be restored in a type of secret type of fraternity where seniors use their authority to manipulate vulnerable individuals who often feel bound to accept tenuous conditions in an effort to be accepted by an institution that until now has held venerable respect. The irony couldn't be even more bitter, the very individual, entity that students looked to transport them into prestigious young men have unwittingly found themselves betrayed. Mr Sandusky will have a lifetime to ask himself why…