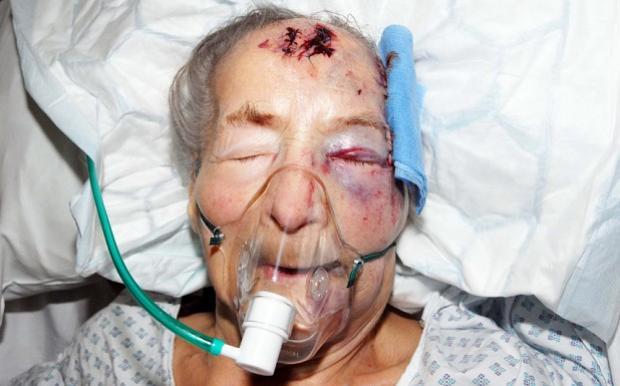 It has been reported a caretaker had come across her 94-year-old attendee Emma Winnall unconscious and beaten senseless this past Tuesday morning. At the time Emma Winnall was discovered in her Moseley, Birmingham ground-flat with a fractured skull, broken arm, broken wrist, and a severed finger, after being savagely beaten while she slept Monday night.
Reports the Sun: "The wheelchair-bound pensioner was rushed to hospital where she had emergency surgery and metal plates inserted into her arm."
Even more curious is that Emma's attacker took nothing from the frail 94-year-old and the severed finger was not as some have wondered even her ring finger.
"Mrs Winnall had nothing of note to steal. It was a senseless assault and she suffered very nasty injuries which could well have been life threatening," said Detective Chief Inspector Sarb Johal.
Emma is a mother of five, grandmother to seven, and great-grandmother to four. She has lived alone for six years, since her husband Frank's passing.
Her family is sharing her story and graphic photo in hopes that anyone with information step forward.
What is so peculiar about this heinous act of violence is that it appears so senseless. If nothing was stolen, then what did Emma's aggressor take from the beatings? A feeling of power over a helpless and defenseless human being? An anger release? The settling of a long held grudge?
And what now do the elderly have to look forward to as they reach their latest of years? Will they live in constant fear of unprecedented attacks? Attacks to which they have no hope to defend themselves against? Is this the memory they can no carry in the last years of their life, that despite having overcome life obstacles and reaching a milestone of being in the 90's that hate and despair are forever the harbingers of life?
A commenter of The Sun offered the following:
"ground floor flat" ????? That's not a flat suitable for a women who is wheelchair bound, in Mosley of all places, the only way you fit in around there is if your on drugs and work the red light area! Still if only she had countless children and claimed bennifits she would have lived in a palace compared to that! Any mug can see its a drug haven area why on earth home our elderly there? She has been failed by the local authority something else to be swept under the carpet, Birmingham such a proud place to live!!!! Yeah right. Emma hope you make a speedy recovery you are very brave and worth 100 of the scummy nut job who did this! When are we going to look after the elderly ????????"
Has this now become an issue of protection for the elderly? Do they deserve said protection from their "local authority?" Or are they no longer deemed as people at the end of their rope, therefore not a priority or concern for local government?
These are terrifying questions every person should consider, since after all, there is not yet a cure for getting old.