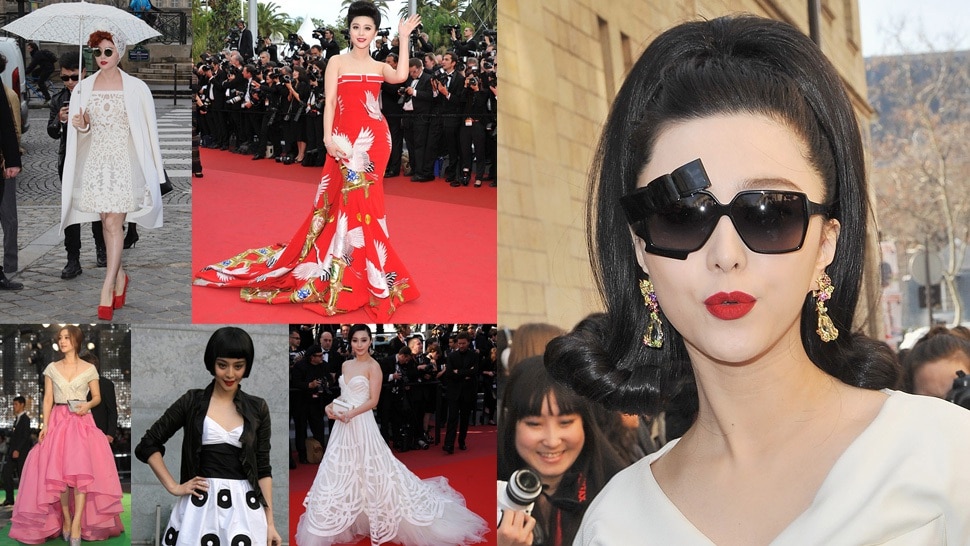 According to jezebel, Chinese actress/singer and general all round hawt bixch Fan Bingbing may well be the ultimate red carpet eye candy the world has ever known, well at least what's been known in China.
With China fast catching up with the West and also creating its own crop of media stars for the masses to copulate over and hope against hope they can one day become themselves whilst in the meantime spending their hard earned yuans on the good shit to keep newly minted billionaires capitalistic China running (do you bixches think Karl Marx would be proud of me?) there has been a need to push hawt eye candy that in essence serves as the lever.
Writes jezebel: Whether she's attending an international film festival, press conference, or Fashion Week, Chinese actress/singer Fan Bingbing is always taking sartorial risks while somehow never missing her mark. Ranked in the Top 10 of Forbes China Celebrity 100 for the past 2 years, she's super famous in her homeland—she's even a principal of a school she started there!
Omnipresent fame seeker? Walking dada project incarnate? Principal of her own school? Hmm, how many media whores in western states can say that? In any case let's lay our eyeballs on Fan Bingbing and wonder to ourselves, besides her cheekbones, a modicum of talent (reality stars exempted), being at the right place at the right time and maybe sucking some good coke cock (did I just say that?) or maybe even being born into it- how does one actually ever become a status hawt bixch for the collective in the first place?
Think about it whilst you all drool…..
(I've selected a handful of images, don't be afraid to jump to jezebel if you want to see the full gamut of Fan Bingbing's hawtness)