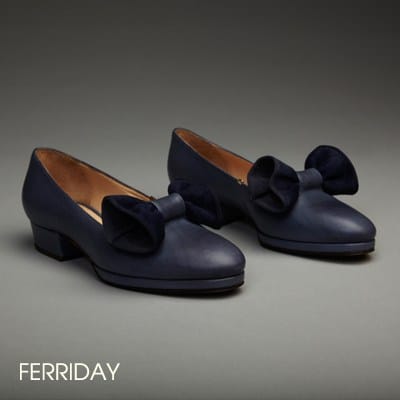 Yesterday as part of London Fashion Week, Zoe Lee launched her new footwear collection for Autumn/Winter 2012. The event was held at Blacks, a private members club in the heart of London's west end. The event featured not only free champagne and cake, but also an extraordinary collection of expertly crafted shoes by the young British Designer.
After graduating from the prestigious Central Saint Martins in 2002 and working with the likes of Vivienne Westwood and Alexander McQueen, Lee seems to have gone straight to the top, designing her own line of footwear that is as playful as it is practical. The collection's embodiment of both youthfulness and quirkiness warrants comparisons to brands like Miu Miu. Lee also demonstrates an intelligent use of raw, natural materials, that manages to make even leather and snake skin come across as delicate and supremely feminine. In one design, for example, Lee incorporates what looks to be a pastel pink snake skin, and by tieing it into a large bow, evokes a kind of Valentino-esque romanticism.
Ironically, however, Lee's most successful pieces generally fall onto the more practical side of design, with sporty leather booties and attractive asymmetrical sandals being clear crowd favorites.
The clear standout design–in terms of pure inventiveness– was a sleek and simple white patent ankle boot with a piece of thick removable grey leather trim, which is affixed to the top of the boot via gold studs which puncture the leather. When the leather trim is removed, the gold studs that remain on the boot transform from their previous functional role to take on a new aesthetic role as a striking bit of detail. This sort of creativity and wit found within Lee's designs has undoubtedly formed a large part of Lee's success to date and is the reason why we should expect to be seeing much more from her in the future.