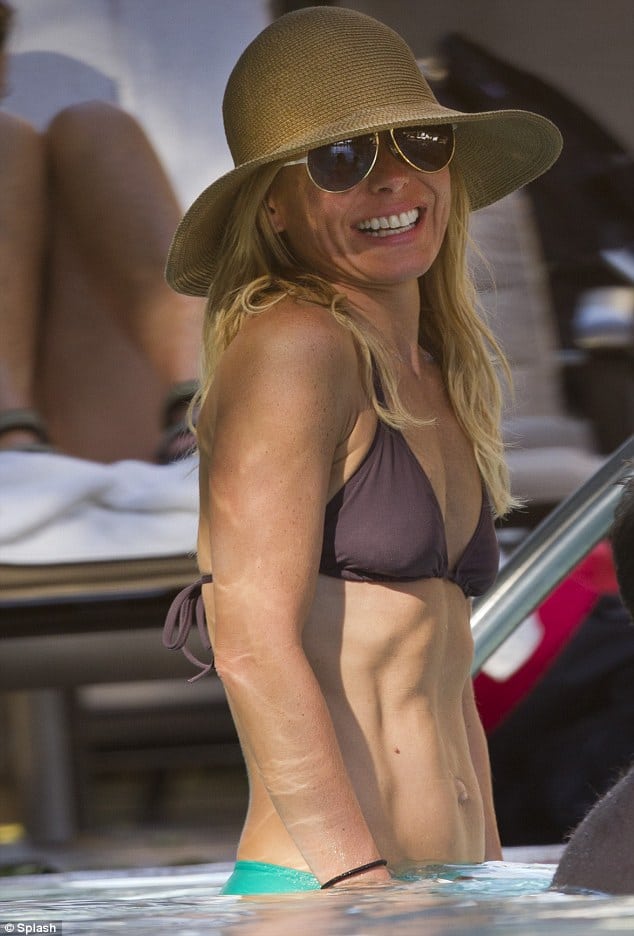 Kelly is Scallywag's preferred Monday morning hawt bixch…
Kids here we go again with the dialogue called 'how does my favorite hawt bixch Kelly Ripa manage to make girls half her age jealous with rage?
dailmail.co.uk: The 41-year-old host of daytime show Live! with Kelly showed off her ripped abs as she hung out poolside in Hawaii yesterday.
Ripa looked incredible as she slipped into mis-matched swimwear on a break from filming her show, flaunting her petite frame in a brown triangle shape bikini top and green briefs featuring flattering splits at the side.
Another celebrity hawt bixch in a mismatched bikini? They seem to be rampant these days kids. 
Her legs looked especially firm as she unwrapped her enviable figure from a beach towel after taking a snorkelling trip earlier in the day.
Kelly – who has been spending time with friends and her husband Mark Consuelos in the American state – recently told the US edition of Good Housekeeping about her love of being active and how she keeps in such amazing shape.
But according to our collective hawt bixch Kelly, the secret to her preternatural good looks isn't just the desire to exercise to look good, but the desire to exercise to as she says 'keep her quiet in the mind.' Which might explain why I like to exercise by reaching for my bottle of kool aid just behind me. That if you must know kids how I get to 'keep quiet in my mind.' But hey different strokes for different folks…
Continues the lovable media whore:
'I work out every day. It's part of my life,' Ripa says in the March issue. 'That's one of the benefits of having kids in school full-time.'
Indeed. I would say one of the benefits of having Fyodor and Mazeltov my adopted chipmunks on retainer is that they always manage to keep the bottle of kool aid in our communal cupboard  nice and bubble for when life's most insistent demands overwhelm us. Not that I couldn't find a size zero green bikini if I needed to….
'I'm usually done with work around 11am, so I have time before I pick the kids up from school. 
'I do it more for my insides than my outside, but the outside gets a nice benefit, too. I feel like my mind is a little quieter when I exercise.'
She says: 'I work out with a trainer, Anna Kaiser, three days a week. 
'We do what I would call cardio ballet and power yoga. I take spinning classes at Soul Cycle [in New York], which I love, and I run. 
'I get bored, so I like to mix it up a little bit. I try to make my heart beat out of my chest, hard-core, once a day for at least a half hour. I think that's very important.'
Kids, don't tell me you're not frothing by the chops and not thinking about buying a size zero bikini bottom right now to work out in too? If you must know I have taken some scissors out and begun cutting away at my bathrobe. Of course there's a slight problem. It's not green but rather lavender….
And finally this wisdom:
The TV presenter says she's not obsessive about exercise: 'If I'm exhausted and I just don't feel like it, then I don't do it. 
'I am a human being, after all. But I also know I'm the kind of person who, if I take one day off, well, it's very easy for me to take the next day off and then quit exercising. 
'If I don't do it every day, I won't do it at all.'
Which settles it. Let me put those damn scissors away and reach for my flask of moonshine. Don't you wish a hawt bixch strutting life away in a size zero bikini? Unless of course you already are…