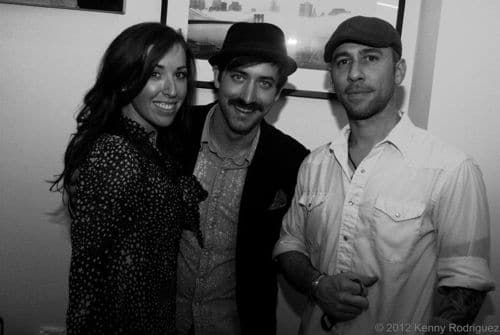 Nestled in the heart of Chinatown, White Box Gallery  is a true rare find.
Retro, wild, carefree and cool, White Box stands alone, off the beaten path from the barrage of studios and galleries strewn through soho.
Just like its geographical location, the art and photography it features celebrates rebellion, counter culture and going against the grain.
Hosted by 2feet12 inches, a traveling pop-up art expo that features NYC's hottest urban and pop culture artists, live music entertainment, DJs, food and drink.
Curators/cool street included the stylish foursome-Robert Aloia, Frankie Cedano, Brent Bartley, Laksmi Hedemark. Bar featured Brooklyn Gin gimlets, Angostura Rum and Domaine de Canton cocktails and  was provided by Blaine Ashley of CitySip.com who staffed it with hot bartenders from across NY: Tomas Delos Reyes of Top of the Standard, Enzo Lim of Maharlika & Minetta Tavern, Rachel Ford from Monkey Bar and Fred Atonucci of Ilegal Mezcal.
The artists in tonight's show forge the path in modern art, taking inspiration from and paying homage to the creative movement of the late 80's and 90's.
One of the pieces I was most impressed by was a larger- than-life collage of noteworthy news clippings from New York City papers highlighting events that shape history.
"This is my life you know- these moments define my being," said Savior Elmundo, the artist behind the piece.

In addition to art, the Grand Opening Party featured an exclusive screening of   "Downtown Calling," a documentary that captures the essence, spirit and impact of the emergence of hip hop, grunge and elctronica though interviews of the influencers that built the industry.
The crowd echoed bygone eras- bringing together a diverse crowd celebrating the merge of different cultural, artistic and music backgrounds.