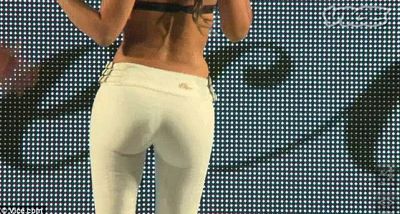 Taking their world-wide curiosity to the next level Vice Media have now set out their sights on what counts for Columbia Fashion Week. As the video below shows, what you thought worked in Paris, New York or Milan runs by its own rules here in Medellin, Colombia.
Taking us through with the city's less haughty (yes I can't stand it either)and every day man's fashion show circuit, Moda Para El Mundo, as opposed to the nearby star fxcked Colombia Moda fashion week, model and presenter Charlet Duboc exposes us to some very interesting insights as to what makes fashion tick in this part of the world. And how…
dailymail.co.uk: A trade show attached to Colombia Moda is, in the words of Ms Duboc, 'more high street than high fashion,' bursting with bootylicious bottoms, curvaceous figures, impossibly bouncy breasts, bronzen skin and white teeth. 
Plastic surgery is clearly the norm, if not openly spoken about. One underwear model patently lies, claiming her figure is 100 per cent natural.
Over at the main fashion week's competitor, Moda Para El Mundo, the focus is even less on fashion and more on bling and booties.
An incredulous Ms Duboc clearly has a hard time focusing, surrounded by glutes of epic proportions.
'People's arses are such a massive distraction from anything else,' she says. 'It's kind of impossible to talk about anything else. It's just ridiculous.'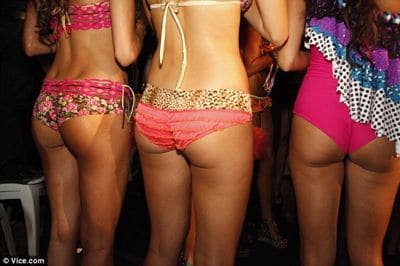 But if you think tall skinny girls with high cheekbones are the norm in the fashion world, Ms Duboc has a surprise for you as she takes a survey of some of the 'conspicuous' beauties otherwise known as 'narco beauties' (hmm, what's in a name anyway?) who shake a curvaceous booty from here to eternity. Narco beauty as a sign of respect to the couturier of the drug cartel
Reflects  one beautician:
'They always want an exuberant woman with many attributes who is very revealing. The culture applied itself to Medellin. All girls have to have perfect hourglass figures or even better.'
But if you think you are born with beauty in this part of the world-that's just wishful thinking:
'It is often implied that to be beautiful there is a need to have surgery. Not just the breasts, but also the face, everything.'
She says that at her school, 'all' of her friends had bottom or breast boosts and that 'by the age of 17, most girls have surgery.'
But not every attempt at manufactured beauty necessarily works out:
Gluteoplasty surgeon, Dr Juan Mejia, told Ms Duboc that he has seen horrific cases of
(article continues next page)