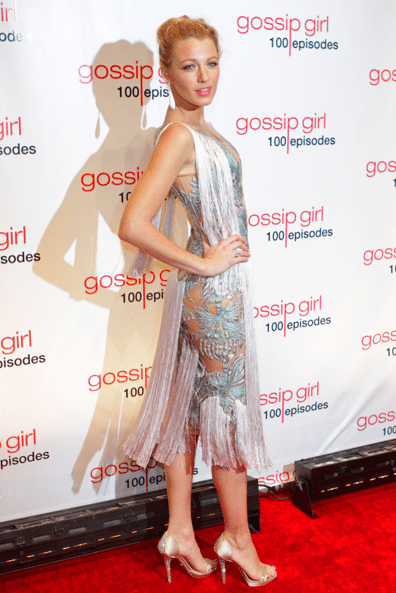 Kids you know you are on to a good thing when you can arrive at a soiree in your own honor resembling a wet dream in display with you not batting an eye lid. Which is to say it's nothing but an ordinary day at the office for our hot bitch heroine Blake Lively.
huffpo: Although Blake Lively is usually the one doing all of the gossiping, her latest getup has us doing some whispering. The leggy blonde arrived at the "Gossip Girl" 100th episode celebration to fete her name-making show, but not before turning a few heads on the red carpet in a cut-out, form-fitting dress. The actress showed off her flawless body in all the right places, even giving photogs a sneak peek at her backside.
One day when Blake is strolling through Times Square she will casually look up to see the visage of her torso parading the universe, her gaze staring back at her and non the wiser passer bys, before turning to whisper to the paparazzi shadowing her every move- 'this is what waits you too when you learn how to perfectly milk the camera man.'
Don't you wish you were a hot bitch on the merry go round too?
Blake Lively and Leonardo DiCarprio would like to announce that their love charade is finally over.
It's time to gawk at naked pictures of Blake Lively.
SECOND SET OF NUDE BLAKE LIVELY PHOTOS TURN UP- WHO'S REALLY RESPONSIBLE?
SUPER MODEL BAR RAFAELI, EX GIRLFRIEND OF LEONARDO DI CAPRIO WANTS TO SHOW YOU HER NEW BIKINI PICS.
Leonardo Di Caprio wants to get laid soon.