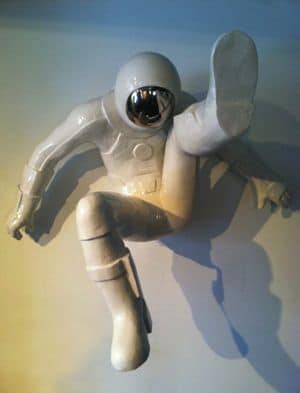 To say the crowd was eclectic at Krause Gallery's opening of Emil Alzamora's  "A Nice Reflection" would be an understatement. The usual young, fashionable women in various colored heels of the season made their appearances alongside debonair gentlemen in Italian suits. Krause-represented Richard Butler of the Psychedelic Furs enjoyed the artwork in all his tousle-haired glory. Sipping complimentary wine and wrapping our heads around the construction of such monumental pieces, Alzamora's opening was certainly a night to remember.
When I finally buy that penthouse overlooking the park on the UES, I want Emil Alzamora's sculptures glittering my massive foyer. In a world where any old slap of paint or scrawl of charcoal can be called 'art', Alzamora's work is refreshing for its craftsmanship.
Classical-inspired, life-size sculptures created from materials ranging from plaster to cast resin, covered in graphite and platinum glaze are an amazingly rare treat.
Krause gallery describes the show, "This exhibition presents a visceral engaging interpretation of the human figure and proposes the artist's view of everyday experience and the challenges of introspection in the midst of turbulent times." 
The namesake of the show, "A Nice Reflection", does just that. It is stunningly made from gypsum, steel and iron. The life-sized figure slouches, arms against his chest and hands around the back of his neck, communicating insecurity. He stares into a foggy mirror- a distorted, tainted self-image. Most of the pieces feel as though they're struggling in some way, but in a beautiful way that is intrinsic to the human experience.
The exhibit goes on until November 14. Go here for more details on Krause Art Gallery.